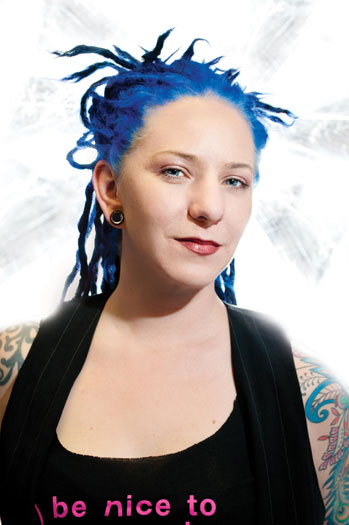 Cyndee Clay
(Photo by Todd Franson)
MW: In the D.C. area?
CLAY: It was actually in Utah.
MW: Brigham Young University?
CLAY: Yeah.
MW: Seriously?
CLAY: Seriously.
MW: Some students at BYU recently posted an "It Gets Better" video.
CLAY: There are some really good people at BYU. When I was there I had a lot of experiences like a lot of young people in general, young women in particular, around how you pay for college. I was working graveyards at 7-11. I began to meet all kinds of people who had different experiences. It really got me thinking, got me clued-in to some of the different issues that people who do sex work face. I grew up in the HIV age when these conversations were starting to happen. At that point, I just started changing the way I might normally have thought of sex work.
In what could be considered a conservative environment – or a really conservative environment – I was lucky to meet people both inside the church and outside who were very open-minded, very forward-thinking. That was a lot of my reason to leave BYU. I realized I wasn't in a place where I could get the education I wanted. I was a social-work major, and realized it wasn't the place for me. I ended up leaving and trying a different path.
MW: Where did you go?
CLAY: I came back to the University of Maryland. In all honesty, the University of Maryland was actually the only other school I had ever heard of, because my life plan was pretty much that I was going to go to BYU.
MW: Then when did you start working with HIPS?
CLAY: I started volunteering with HIPS in '96, not long after I got back. I got introduced to HIPS through a fundraising event they had with Bikini Kill, an old "riot grrrl" band.
I absolutely fell in love with the organization. It made a lot of sense to me, so I started volunteering. The organization was doing really "on the ground" work with people that not many people were interested in talking about or caring about. The very pragmatic, very nonjudgmental approach the organization took to the work just made sense to me. It also felt like the most radical volunteering I could be doing as a young college student to really push myself and my comfort zone and my politics.
MW: After school, did you join HIPS full time?
CLAY: I started working for HIPS part time while I was still in school. HIPS got a grant to run a summer youth drop-in program that we ran in collaboration with [the Sexual Minority Youth Assistance League] at the time. I started running that program, reaching out to young people who were doing sex work or potentially doing sex work. That was my first position in the agency.
MW: Did you have any second thoughts? I mean, I imagine the work could be overwhelming.
CLAY: I get the "overwhelming" question a lot. But I don't ever remember a time when I was like, "This is too weird." The more I got involved with it, the more it made sense, and the more excited I was to be a young person working alongside, providing services to, other young people – who, in some cases, had very similar experiences [to mine]. Or totally different experiences.
MW: Did entering this world of sex work upend any of your values? Or perhaps reinforce some?
CLAY: My upbringing was extremely Christian and conservative. Service was a big part of my upbringing. And also this general – I don't know how to say it – kindness. That is part of what you're supposed to exude as a Mormon. This was a way to channel that energy, to channel those ethics I was brought up with in a way that didn't necessarily buy into a traditional Christian model.
HIPS allowed me to go with "love the sinner" without having to look at the people I was working with as sinners, because I didn't actually believe that they were. I wasn't actually the best Mormon in the world. [Laughs.] That's one of the reasons why I eventually left the church. I just couldn't reconcile these messages of love and nonjudgment and Christ loving everybody with some of the really bad political things that the church was doing, the way that women were treated, and even the way they talked about empowerment and these really strict rules around behavior and sex.
One of the reasons I was so drawn to HIPS was not only the way I personally felt about the concept of sex work and sex trading, but it allowed me to continue with the concept of love and service, reaching out to what many people in this society consider "untouchables." HIPS's whole mission is about helping people see the good inside themselves.