An employer who discriminates against an employee or applicant on the basis of the person's gender identity is violating the prohibition on sex discrimination contained in Title VII of the Civil Rights Act of 1964, according to an opinion issued on April 20 by the Equal Employment Opportunity Commission (EEOC). The opinion, experts say, could dramatically alter the legal landscape for transgender workers across the nation.
The opinion came in a decision delivered on Monday, April 23, to lawyers for Mia Macy, a transgender woman who claims she was denied employment with the Department of Alcohol, Tobacco, Firearms and Explosives (ATF) after the agency learned of her transition. It also comes on the heels of a growing number of federal appellate and trial courts deciding that gender-identity discrimination constitutes sex discrimination, whether based on Title VII or the constitutional guarantee of equal protection of the laws.
The EEOC decision, issued without objection by the five-member, bipartisan commission, will apply to all EEOC enforcement and litigation activities at the commission and in its 53 field offices throughout the country. It also will be binding on all federal agencies and departments.
In the decision, the EEOC states, "[T]he Commission hereby clarifies that claims of discrimination based on transgender status, also referred to as claims of discrimination based on gender identity, are cognizable under Title VII's sex discrimination prohibition …."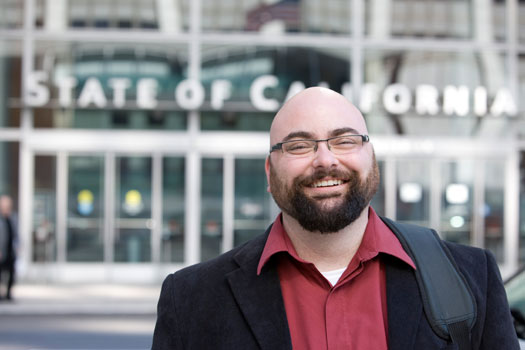 Masen Davis
Masen Davis, head of the Transgender Law Center (TLC), says the decision is a "big leap forward." TLC advocates, who brought Macy's case, note that after today's ruling transgender people who feel they have faced employment discrimination can go into any of those 53 offices and the EEOC will consider their claims. What's more, the EEOC could take action itself to sue the employer for discrimination.
"Given the incredibly high rate of employment discrimination facing transgender people, this is incredibly significant for us. Data from the National Center for Transgender Equality and National Gay and Lesbian Task Force found that 78 percent of transgender Americans say they've experienced workplace discrimination at some point in time," Davis tells Metro Weekly. "Given that transgender people do not have employment protections in the vast majority of states, this creates a whole new fabric of legal support for our community."
Macy says that the discrimination she faced after having gone through the background check for a job as a ballistics technician was abrupt. She had applied as a man before transitioning and she says, "Within three days after my background [check] was completed and they alerted the lab that Mia would be coming to work, I was notified that the position was no longer available — even though I was certified and trained for the job."
She later found out that another person had been hired for the position.
Macy says that before she even knew about the other person being hired, she "didn't think something was right" and contacted the Transgender Law Center, which took her case. Davis says Macy's case was an obvious one to pursue.
"We hear from 1,500 people a year who are experiencing discrimination, and our attorneys work every day to help out everyone who calls and make sure they have the legal information and support they need to be successful. Sometimes we hear from people who have suffered such egregious discrimination that we have to put every resource into righting a wrong," he says. "And, in this case, we heard from Mia Macy, who was so clearly discriminated against — somebody who had been so clearly qualified for a job that she had every right … and we had every responsibility to bring this case forward."
TLC filed a formal complaint on behalf of Macy with the Office of Equal Opportunity (EO) of the ATF, which is responsible for handling internal complaints of discrimination within the ATF. Among the claims was one that Macy was discriminated against under Title VII because of her gender identity.
According to Macy's TLC attorney, Matt Wood, "in October [2011], [the EO] responded to that filing by letting us know that the EEO process was not available to her because they did not view, in their mind, that Title VII applied to transgender employees." In a series of letters between ATF and Wood the issues underlying Macy's claim were disputed, but Wood says that, eventually, "We appealed to the EEOC, and that was in December of last year, asking for them to clarify the law."
THE LAW: In 1974, Ramona Holloway — initially hired as Robert — was fired after telling her employer, Arthur Andersen and Company, that she was taking hormones and intended to transition.
In a lawsuit challenging that firing, the U.S. Court of Appeals for the Ninth Circuit noted that, after the disclosure of Holloway's intended transition, "an official of the company suggested that appellant would be happier at a new job where her transsexualism would be unknown." Soon thereafter, when she did not leave the company after asking that her name be changed in the company's records, she was fired.
When the Ninth Circuit looked at Title VII, including the amendments to it contained in the Equal Employment Opportunity Act of 1972, the court concluded that "the provisions were intended to place women on an equal footing with men." In light of this, the court dismissed Holloway's claim because, as the court held, "Giving the statute its plain meaning, this court concludes that Congress had only the traditional notions of 'sex' in mind."
Although claims of transgender discrimination were treated with "disdain" in those early days of Title VII interpretation, as National Center for Lesbian Rights legal director Shannon Minter puts it, two Supreme Court cases that followed dramatically changed the views of lower courts on the issue.
In the first, Price Waterhouse v. Hopkins, the Supreme Court in 1989 addressed the claim brought by Ann Hopkins, who sued for sex discrimination because she was not offered a partnership at the accounting firm. Her chances would be improved in the future, she had been told, if she "[w]ould 'walk more femininely, talk more femininely, dress more femininely, wear make-up, have her hair styled, and wear jewelry."' Describing Title VII, the court noted the words in the statute prohibiting sex discrimination and concluded, "We take these words to mean that gender must be irrelevant to employment decisions."
In the second, Oncale v. Sundowner Offshore Services, Inc., the Supreme Court considered the case of Joseph Oncale, a man who worked on an oil platform in the Gulf of Mexico and was "forcibly subjected to sex-related, humiliating actions against him" by members of the eight-man crew, "physically assaulted … in a sexual manner" and threatened with rape. Noting that male-on-male sexual harassment was "assuredly" not the aim of Congress when passing Title VII, Justice Antonin Scalia noted that "statutory prohibitions often go beyond the principal evil to cover reasonably comparable evils, and it is ultimately the provisions of our laws rather than the principal concerns of our legislators by which we are governed."
Although neither was directly on point, the Price Waterhouse conclusion that sex discrimination includes protection of those who are gender nonconforming and the Oncale conclusion that Title VII's protections do expand, within the text of the law, to areas not considered when the law was passed opened up the pathway to a reversal of those 1970s and 1980s decisions.
Assessing the landscape, Minter contrasts the early cases to the more recent cases, saying, "It was really so clear when you read those decisions that they were simply based on disdain for transgender people, and it has been very encouraging over the past 10 to 15 years to see the courts changing that, to see that trend reversing itself."
Ilona Turner, the legal director at TLC, concurs, telling Metro Weekly, "The very strong, very clear trend by all of the federal courts that have heard this kind of case in recent years has been to hold that Title VII's sex-discrimination prohibition protects transgender people."
When the U.S. Court of Appeals for the Sixth Circuit in 2004 heard the case of Jimmie Smith, a lieutenant in the Salem Fire Department in Ohio who claimed he was suspended in retaliation for hiring counsel after officials learned of Smith's plans to transition, it applied Price Waterhouse to Smith's claim. "[D]iscrimination against a plaintiff who is a transsexual — and therefore fails to act and/or identify with his or her gender — is no different from the discrimination directed against Ann Hopkins in Price Waterhouse, who, in sex-stereotypical terms, did not act like a woman," the three-judge panel held.
This past December, the U.S. Court of Appeals for the 11th Circuit held that Vandiver Elizabeth Glenn — a transgender woman fired from her job as an editor with the Georgia General Assembly's Office of Legislative Counsel because her boss, among other things, said her transition was "unnatural" — was discriminated against on the basis of sex because of anti-transgender treatment.
Applying other courts' Title VII analysis to Glenn's claim brought under the 14th Amendment's Equal Protection Clause, the three-judge panel held, "We conclude that a government agent violates the Equal Protection Clause's prohibition of sex-based discrimination when he or she fires a transgender or transsexual employee because of his or her gender non-conformity."
Appeals courts in San Francisco, Boston and D.C. have reached similar conclusions.
THE EEOC: Less than two months before the 11th Circuit's opinion in Glenn's case, the EEOC had put down a marker on its view of the question in a little-noted filing by the commission's general counsel in a trial-court case involving Freedom Buick GMC Truck in Midland, Texas.
In the case, in which Alex Pacheco had been fired from her job as a receptionist at the dealership shortly after she had begun taking hormones and disclosing that she wished to begin presenting as a female at work, the EEOC filed a motion Oct. 17, 2011, asking the court to allow it to file an amicus curiae, or friend-of-the-court brief. The EEOC regularly files such briefs to inform courts about its views on the state of the law.
As Minter says, "The EEOC is the administrative agency that is charged with interpreting Title VII and other nondiscrimination statutes, and the federal courts give a lot of deference to EEOC's interpretation of the statute. They're not strictly bound by it, but an EEOC ruling does get a lot of deference."
In Pacheco's case, the EEOC had sought to file a brief stating, "In Price Waterhouse, the Supreme Court recognized that Title VII's prohibition of discrimination 'because of … sex' means 'that gender must be irrelevant to employment decisions."' It went on to note the "discrimination based on a failure to conform to stereotypical gender norms" is thus prohibited and concluding that "if an employer were to take an adverse employment action because an employee's gender identity is not consistent with the employee's biological sex, the employer would be discriminating 'because of … sex."'
In an appellate court, the EEOC would have the right to file an amicus brief without obtaining court permission, but, at the trial-court level, it must seek court approval to do so. In Pacheco's case, the EEOC filed a motion asking the court to let it file an amicus brief in the case — but also attached the brief that it would be submitting in the case as an exhibit to the motion. Here, the judge denied the EEOC's request as moot on Nov. 1, 2011, because the judge decided days earlier, on Oct. 28, 2011, that Freedom Buick GMC Truck's motion to have the case decided in its favor before trial was denied.
On March 23, the court in Texas closed Pacheco's case because earlier that day the court had received notice that Freedom Buick GMC Truck had reached a settlement with Pacheco.
But, the brief was submitted on the EEOC's behalf, and though little noted at the time — likely since it was never accepted by the court — the October filing was given new life on a far more broad level today with the EEOC's ruling in Macy's case.
In the decision in her case, none of the five commissioners — which include two Republican members — objected to the conclusion that gender-identity discrimination is sex discrimination actionable under Title VII. Because the case is an appeal from the ATF EO decision, the case was considered by the Office of Federal Operations within the EEOC and then presented to the full commission for its consideration.
In the decision, which is signed by the executive secretary for the commission — a procedural move that those familiar with EEOC process say means the decision is binding on all federal agencies — the commission considers first whether the case has properly come before it for review and then, because of ATF's conclusion that Title VII's prohibition on sex discrimination does not include transgender discrimination, whether it has jurisdiction over the case.
In today's opinion, the EEOC concludes that the case is properly before it and that, consistent with the overwhelming trend of federal courts, the ATF conclusion was incorrect.
"When an employer discriminates against someone because the person is transgender, the employer has engaged in disparate treatment related to the sex of the victim," the decision states. "This is true regardless of whether an employer discriminates against an employee because the individual has expressed his or her gender in a non-stereotypical fashion, because the employer is uncomfortable with the fact that the person has transitioned or is in the process of transitioning from one gender to another, or because the employer simply does not like that the person is identifying as a transgender person."
The case has now been sent back to the ATF for consideration in light of the EEOC decision, but either the agency or Macy now have 30 days to ask the commission to reconsider its decision.
THE IMPLICATIONS: Minter, who has been working for LGBT legal equality since law school in the early 1990s, says, "This is huge. This is a real sea change.
"To have just a clear, definitive EEOC ruling that Title VII protects transgender people gives us so much more certainty and security and solid, reliable legal protection. For decades now, advocates and scholars both have been saying Title VII should be applied to protect transgender people," he says. "And now, to have the EEOC confirm that, 'Yes … Title VII should and does protect transgender people when they're discriminated against because they've changed their sex or intend to change their sex or because they're gender nonconforming. That is sex discrimination.' That is really an important capstone."
Davis, the head of the Transgender Law Center, says the decision is a "big leap forward in the journey to equality." Explaining, he says, "It is the game-changer, asserting that transgender people can bring claims at EEOC offices across the country."
Throughout the 53 district offices of the EEOC, investigators will now accept claims brought by transgender people, and — though the EEOC process means it could take some time — the EEOC's legal staff can bring lawsuits against employers the agency has determined have discriminated against transgender employees or job applicants.
Another impact, Davis says, is on Macy, and the fact that today's decision, while significant, doesn't mean her case is over. The decision only sends Macy's case back to the ATF Office of Equal Opportunity for resolution. "We need to make sure that Mia is able to have her case dealt with fairly, and we're confident in a positive decision from the ATF," Davis says.
Minter notes that the decision will, in his view, quickly have application outside of the case, the EEOC and the courts, noting: "It sends a really strong message to all employers and I think will have a dramatic impact on business culture. This has such a strong legitimating impact in many different arenas."
One of those potentially impacted arenas is the political one, where President Obama has faced criticism for nearly the past two weeks since his decision, announced April 11, not to pursue an executive order banning federal contractors from discriminating in employment on the basis of sexual orientation or gender identity. Although White House press secretary Jay Carney has repeatedly pointed to the Employment Non-Discrimination Act as the path forward for workplace protections, that bill is stalled in a Republican-led House that opposes it and a Democratic-led Senate that hasn't even held a hearing on the measure during this Congress.
Both Davis and Minter say that the EEOC's decision doesn't reduce the need for ENDA — particularly as the decision has no impact on sexual-orientation discrimination — but Minter acknowledges, at least as to gender identity, that this decision could shift the ground somewhat.
"It would still be important to have specific federal protection, but having protection by an EEOC ruling — which is consistent with the trend of federal courts — that is very significant, that's very strong protection," he says. "Title VII is a very protective statute, and transgender people being able to rely on that statute now is transformative."
The EEOC's decision, though given significant deference by federal courts, could be overturned by the U.S. Supreme Court, which — though unlikely following Price Waterhouse and Oncale — is a possibility that will lead advocates like Minter to continue to push for gender-identity-specific protection, as well as sexual-orientation protection, in legislation like ENDA.
Today's decision also could make the signing of the executive order and the passage of ENDA easier if the gender-identity provision in those items would be seen as buttressing existing Title VII protections because of the fact that, as ENDA lead sponsor Rep. Barney Frank (D-Mass.) said at the end of the 111th Congress in 2010, the gender identity provision had been the provision about which more education was needed before enough members would be willing to support it.
For today, though, transgender advocates are focused on the EEOC decision, itself a breakthrough.
Turner, TLC's legal director, says, "Discrimination against transgender people in the workplace remains at unacceptably high levels, but we're hopeful that with a positive ruling from the EEOC, transgender people across the country will now know that they are in fact protected by federal law if they're denied a job or fired just because of who they are. And that's a really big deal."
Macy, hopeful even a year into this fight to do the job that she'd been trained to do, breaks it down even further.
"It's one more piece in the puzzle of equality. It's kinda hokey, but it is," she says. "It's one more locking little piece in that puzzle."