Celebrating LGBT youth pride seems to gain traction with every passing year. People come out younger. Institutions working with youth – like schools, nonprofits, local governments, religious groups – cater to LGBT and questioning youth in ways that might have seemed unthinkable a decade ago.
Then again, it's not as though LGBT youth have managed to altogether escape bullying and harassment, or keep from being disproportionately affected by homelessness.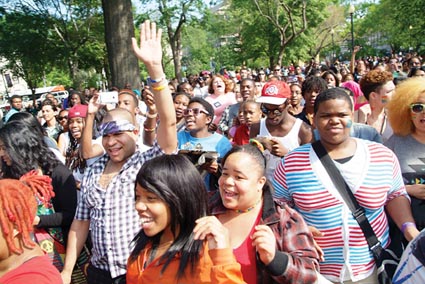 As progress is made in some areas, more problems might be revealed, or resources can shift to address problems that have gone largely ignored.
Whether it's celebrating the good or countering the bad, Youth Pride Day has it all, a very rare pride event dedicated to LGBT youth. This year, D.C.'s special day marks its sweet 16th birthday with vibrancy. But since its birth, Youth Pride has thrived.
"We had about 900 people show up for the first year," says Christopher Dyer, looking back to 1997, when he was 27. "I think I was expecting 200 or 300. It was quite fun. The second year we had about two thousand. From that point on, the event just sort of took off. And the organization took off."
Dyer, who directed Mayor Adrian Fenty's Office of GLBT Affairs from 2007 to 2010, was a main figure in launching Youth Pride Day and its sponsoring organization, the Youth Pride Alliance. He recalls that it took a couple years for what was initially intended as some fundraising efforts for D.C.'s Sexual Minority Youth Assistance League (SMYAL) to evolve into the Youth Pride Day locals enjoy today.
"In 1995, the whole LGBT youth movement was really just beginning," he says. "The National Youth Advocacy Coalition had just gotten formed. There wasn't a lot going on for LGBT people. … Since I'd been involved with Capital Pride folks – I volunteered in '95 for backstage security – I thought, yeah, we could do a Youth Pride Day. We put a group together to try to organize it – God love everyone who sat around these meetings – but we were more interested in adopting bylaws and a mission statement and it just sort of never took off."
At least not right away. The idea for a Youth Pride Day had taken root. Soon, Dyer was prompted to give it another shot, and more meetings were called.
"I had my first organizational meeting in October '96 at Café Luna," Dyer says. "I had the second and third meetings around my kitchen table. We sort of came up with 'Youth Pride Alliance,' I think, around that table. And we started figuring out what to do."
With other community members as eager as Dyer to get the idea off the ground, the crucial elements came together. To Dyer, that meant someone who could craft the young organization's message, people to raise money, and an engineer who knew his way around a stage and its attendant wiring. That first Youth Pride Day, in Dupont Circle, also had some luck on its side. Rudy Galindo, the famous gay ice-skater, was in town to sign his 1997 biography, "Icebreaker." That was enough for the Youth Pride Alliance to get Galindo to serve as the first Youth Pride Day's keynote speaker, adding some celebrity to the event.
From its start in Dupont Circle, Youth Pride Day rolled down to the wide lawn of P Street Beach. But, with last year's 15th anniversary, Youth Pride Day returned to its Dupont Circle roots.
Eboné Bell got her first taste of Youth Pride Day at P Street Beach – as E-Clef, her drag alter ego. She's guessing it was sometime in the early 2000s.
"I was probably 21 or 22," Bell, now 30, says of her first Youth Pride Day appearance. "The first thing I thought was, 'How did I not know about this sooner?' It was really cool to see all these LGBT organizations coming together for the greater good of the community and for youth. It was a way for me to find out about a lot of other organizations that cater to the community. Youth Pride does a great job of bringing all these people and resources together. It was an amazing effort."