"It appeals to more than just the gay audience, but for some reason it appeals to our sensibility the most," says Matthew Gardiner. In fact, the incredibly campy musical Xanadu is self-aware of its gay appeal. "This is like children's theater for 40-year-old gay people," goes a funny line from gay playwright Douglas Carter Beane's book, which sends up the same-named 1980 film. Starring Olivia Newton-John, the movie Xanadu has become something of a cult classic.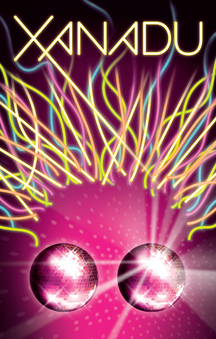 Gardiner, who helmed Signature Theatre's new production, can actually rattle off reasons for the musical Xanadu's gay appeal. There's the disco-fied score, which incorporates the hits from the movie, among them the title tune, "Magic," "Evil Woman" and "All Over The World." There's the fact that the lead male character, played at Signature by Charlie Brady, "spends the whole play in short cutoff jeans."
Signature's production veers from the 2007 Broadway original chiefly in its set design. At Gardiner's guidance, Misha Kachman created "light-up palm trees, the really iconic Venice Beach sign, as well as this back wall that lights up like a disco ball.
And then there's the story, ultimately about one man's dream to create a roller-skating disco rink in southern California, which Gardiner says is "silly, stupid, smart." As he explains it, "It's silly in the way you'd expect camp to be. It's stupid, in that some of the situations are just ridiculous. At the same time, it's a really intelligently crafted piece of musical theater." — Doug Rule
Xanadu runs to June 3 at Signature Theatre, 4200 Campbell Ave., Arlington. Tickets are $63 to $86. Call 703-820-9771 or visit signature-theatre.org.