There is power in words. D.C.'s Regie Cabico knows that. Just read a few lines of his poem "Love Letter from Andrew Cunanan."
I have told more lies than a psychic hotline.
$23 a minute lies. Embellished truths that pay
for my hotel, saline solution & gasoline.
All I know are the details of condom wrappers
& the jolly music of handcuffs.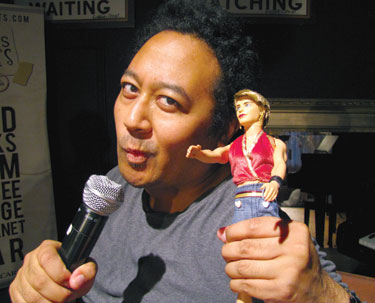 Regie Cabico
(Photo by Dan Vera)
Lindsay Tauscher knows, too. That's why she's been working with Cabico to ready Washington for "Capturing Fire: Queer Spoken Word Summit & Slam." In this arena, however, it's not the words themselves that own the power, but an infusion of passion from the performer – whether competitive "slam poet" or more subdued spoken-word speaker.
"I've been pretty involved with the queer arts community and became passionate about spoken word. Reading the written word, to me, [is] not conveyed with nearly as much passion," says Tauscher, who plans to take part in Capturing Fire's "Ignition" event, a showcase of established and emerging poets. "With the engagement of the audience, you really speak to people. I knew I should like poetry, but nothing struck me as meaningfully as what I've seen in the spoken-word scene."
When it comes to that scene, D.C. is a bright spot on the map. Cabico, for example, is a nationally acclaimed slam-poetry champion. And this second iteration of the nonprofit Capturing Fire – the first in 2010 – pulls in participation from far and wide for four days of events. After Ignition, those events include "Spoken Explosion," where "poets and slammers gather to strut and spit hot verses," slam competitions and even a brunch – the gayest of meals for the queerest of slams.
Altogether, it's a perfect fit for D.C.
"It's a really vibrant scene," Tauscher says of D.C. poetry. "Especially queer spoken word."
Capturing Fire, an affiliated program of The DC Center, runs Wednesday, May 30, to Saturday, June 2. Admission prices range from $10 for some readings to $50 for a four-day pass. For more information or passes, call 202-682-2245 or visit capturingfire.org.