WHAT IS EQUALITY?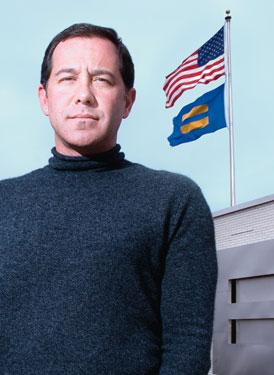 Joe Solmonese
Retired law professor Rhonda Rivera joined The Ohio State University College of Law faculty in the late 1970s. She joined Douglas Whaley, a prominent contracts professor who today is openly gay, on the faculty.
Looking back, she says that the attitude at the time was not much different from the way a church group might treat a gay organist: "Many people in the school thought, 'These are our queers. Doug and Rhonda are our queers, and our queers are different. As long as there's not too many of them."'
And, though she says she didn't focus much on it at the time, the overt and subtle discrimination was difficult — from tenure questions to bathroom-stall scrawls.
"When I left OSU and I walked out of there for the last time, it was the most relieving and exciting thing. I never realized how oppressed I felt in that building. You maintain a certain facade."
Looking to today and the changes made since, she says, "There are lots of gay people in lots of important places now. One of the things we learned about being women in the law was when there was only one or two women in the law school, they were treated not well. But as soon as you got enough women that they could stand with each other, five or six, maybe 10, then they were afraid to treat you badly. So, we used to talk about getting a critical mass of women in a law school. Until you achieve the critical mass, you can be shit upon regularly. And, once you got the critical mass, maybe people still didn't want you there, maybe they didn't like you, but they were afraid to do anything about it."
Applying those lessons to Congress, she says, "When you look at the people like [out gay Rep.] Barney Frank (D-Mass.), [out lesbian Rep.] Tammy Baldwin (D-Wisc.), I'm sure these people went through very, very lonely times. Barney Frank, being the only open person in the 535 people in Congress, I'm sure that he has kept up a facade and that he has battle wounds all over him — of just taking it. He knows what people called him, he knows how people treated him."
When HRC's Joe Solmonese leaves the nation's largest LGBT political organization in June, he will have been there for more than seven years. Looking at the changes over the course of the LGBT movement's past 20 years, he says, "The thing we don't appreciate enough is the organizing mechanism that, in many ways, has empowered people to be out and open about who they are."
Specifying, he says, "We went into the American workplace and said, 'Until we can change the laws so that LGBT people can be married and have federal workplace protections, we'd like to engage you in a business-based conversation about creating a safe and welcoming and equitable experience for LGBT people."'
He's upbeat: "I think it's the great story of our movement that we did that. Support for marriage equality going from 33 percent to 53 percent. Who are those people, those 20 percent? They're those people in those settings, who work side by side with LGBT people whose views are changed because they have now been in the company of an LGBT person."
But, as Solmonese knows all too well, the success to which he points also is the success that has bred frustration in younger activists who are demanding equality from the White House fence — to Broadway, where Rory O'Malley performs in Book of Mormon. In his off time, though, O'Malley was a co-founder of Broadway Impact, a group that formed to push its support among Broadway performers and others for marriage equality and other LGBT issues.
"I want all of this tomorrow, I'm in that camp. I don't think we should be waiting for President Obama to evolve. I think it should happen now," O'Malley says in between shows at a coffee shop in New York City. "But, at the same time, you have to be excited about what has happened — and be empowered by it. I think we need to be empowered that so much has happened in such a short period of time — and much more remains to be done."