A DIFFERENT WAY?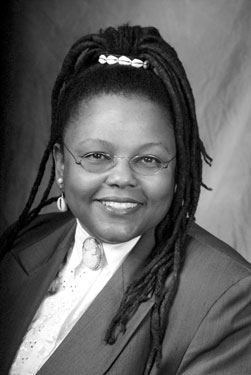 Leslye Huff
As the media focused early this week on Vice President Joseph Biden's comments about marriage equality, and attention turned to Obama's own now-"evolved" position on the question and the marriage amendment vote in North Carolina, it again became clear how quickly marriage equality can suck up all the oxygen in the room.
Rivera, the retired professor, says, "I'm surprised that so many people think marriage is so important. I would have thought – and I still do think – that [the Employment Non-Discrimination Act] would be, in my estimation, a lot more important than almost anything I can think of.
"Being a lawyer, I want people to be able have jobs without getting fired because they're queer. And so the fact that ENDA hasn't passed, and yet, here we are, we already have states having marriage, I think is very surprising," she says. "Evan Wolfson, from Lambda [Legal], really was the first person that I knew who pushed for marriage. I can remember him talking and thinking, 'Oh yeah, that'll be the day."'
But, as Rivera says, "Here we are."
Lal questions the priority that marriage has been given as well.
"I support marriage equality. I think you should have the right to arrange your family relations however you want to arrange them. But I also think focusing on it so much does [push] us away from other options," she says over coffee in D.C. "I think marriage — maybe it's my age, but I don't think it affects me in the same manner as other things, like housing, health care, employment discrimination would affect me. That's why I'm a little — 'upset' is probably not the right word — disappointed, I think, by the focus on it."
It is not only marriage that is front and center in critiques of the modern LGBT movement. There also is the question of race.
Huff questions whether the theme, oft repeated, that the black community has a problem with gay people, is at all fair. Looking at history, she points to support at LGBT marches in D.C. in the late '80s and early '90s, saying that the diversity on the stage was constant and that black leaders, from Jesse Jackson to District officials, were present to support the march. Today, even, she notes, "You can't find another cluster in Congress that's more supportive of LGBT rights than the Congressional Black Caucus. The progressives, yeah, but many of the black folks belong to that."
Of the questions about how to move forward to address the perception that blacks and gays don't get along, Huff posits a theory of why it hasn't changed.
"This is my theory, and I'm old, so I can have all the theories I want. I think it allows black people the excuse of staying in the closet … and it allows white people to keep the status quo of leading the pack and making all the decisions. It leaves us in that same spinning circle, not addressing racism, not addressing the leadership issues, and it gives both sides tacit approval to do that."
For Spade, change must go much further to make a real impact on the most vulnerable people.
"When I look at the history of the United States and I look more broadly around the world, significant social change that really gets at the root causes of harms and maldistributions occurs when the strategy is mass-mobilization and when huge numbers of people who are affected by something are standing up against it and will not stop until it changes. And it becomes impossible for the condition to be the same," he says. "Significant social change does not happen through asking elites to change things. That hasn't tended to work out for the people who are the most vulnerable."
As an example, he takes aim at an early accomplishment for LGBT rights claimed by the Obama administration and people like HRC's Solmonese.
"The obvious example that has been heavily critiqued in queer and trans communities is the Matthew Shepard and James Byrd [Jr. Hate Crimes Prevention] Act. A lot of people-of-color-centered queer and trans organizations stood up and said, 'We don't want this. This actually does nothing for our communities. This does nothing to prevent our deaths. It just adds more resources to law enforcement, which is one of the main perpetrators if not the central perpetrator of violence against our communities," he explains. "If we wanted to prevent the death of trans women who are being killed every month around the U.S., we would make sure they had housing or we would make sure they had a safe way to work or we would decriminalize prostitution so it wouldn't be as dangerous for them to do that work if that's what they're doing."