LGBT pride festivals are no strangers to divas. Genuine royalty, on the other hand, is quite a bit more rare.
Arriving in D.C. from Ghana decades ago, a twist of fate in 2008 saw Peggielene Bartels – aka King Peggy – installed as the leader of Otuam, Ghana, making her the third woman in Ghana to hold such a title.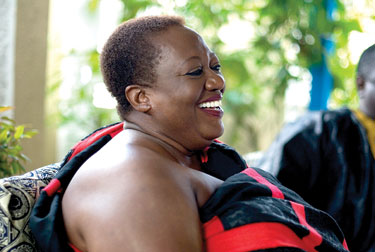 King Peggy
Bartels's visit to DC Black Pride is not some sort of official state visit. She still lives and works in greater Washington – "I call myself a part-time, commuter king" – and was a fixture of the DC Black Pride festivities long before her ascension to her royal role as a traditional leader.
"I used to vend every year," she says, listing silk creations, wooden masks, and other imported wares from Africa among her offerings. "Everybody knows me and they love the art."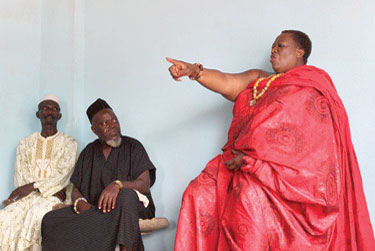 King Peggy
But Bartels is not bringing art to Friday's opening reception. Instead, she is bringing her book, co-authored with Eleanor Herman, King Peggy: An American Secretary, Her Royal Destiny, and the Inspiring Story of How She Changed an African Village. Signing copies of the book for fans actually seems to be one of Bartels's favorite pastimes.
"When I'm signing, something comes to me and tells me what to write," she says. "As a king, I listen to the intuition. It depends upon the individual, the vibration that I pick up. It's very strange."
Just in case anyone is worried about protocol, Bartels promises that her new role has not gone to her head, and that no one should worry about whether she's "her majesty" or "her royal highness." "Nana" will do just fine.
"'Nana' is a name given to a king or queen in Ghana," she explains. "It's a very prestigious name."
Peggielene Bartels will hold a book signing of King Peggy, $25.95, from 7:30 to 8:30 p.m., during the Friday, May 25, opening reception of DC Black Pride at the Hyatt Regency host hotel. Proceeds will benefit the nonprofit Otuam Community Development Corp., supporting the people of Otuam, Ghana. For more information, visit kingpeggy.com.