As April turned to May, change was afoot on D.C.'s American University campus. For starters, April 30 marked the end of Student Government President Tim McBride's term. The next day, The Eagle, AU's student newspaper, featured a column from the outgoing president titled "The Real Me."
"For my entire life, I've wrestled with my gender identity," McBride wrote in part. "It was only after the experiences of this year I was able to come to terms with what had been my deepest secret: I'm transgender."
With that, Sarah Elizabeth McBride came out as a transgender woman about as publicly as possible. The reception she's gotten from her AU community has been, in a word, "overwhelming." In a good way.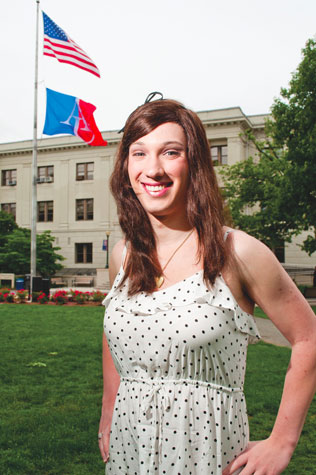 Sarah McBride
Photo by Todd Franson
"The outpouring of love and support from the AU community has been overwhelming," says McBride, a 21-year-old junior from Wilmington, Del., majoring in political science with a minor in history. "I'm feeling great. I'm feeling loved. I'm feeling supported. I'm feeling very confident. With that incredible support network behind me, with my family behind me and with the incredible support network back home in Delaware, I'm feeling very comfortable. And, frankly, very lucky."
While McBride's coming out has been warmly received on campus, it's not a decision she made lightly. As she wrote, she struggled privately with gender identity all her life. But she didn't begin to share that on May 1. Her steps out of this closet have taken months.
"I struggled with it in the fall very privately with one or two friends," she explains. "Over winter break, I came out to my family. Actually on Christmas. I had not slept for about five or six days beforehand, because I knew I was going to come out and I wanted to wait until after Christmas. But I received a button-up shirt and tie for Christmas, and that sort of internally freaked me out. It was such a stark symbol of where I was versus where I needed to be."
That led to a Christmas Day discussion, with McBride coming out to her parents. She says that they, along with her two older brothers – one of whom is gay – have been unconditionally loving and supportive. McBride knows how fortunate she is in that regard, and possibly more so when it comes to her campus reception.
The outgoing president of the American University Queers and Allies group, Jill Altman, like McBride, says that reception is testament to the AU community's commitment to diversity and respect.
"There's a huge part of me that's proud of her, but I'm also proud of our university," says Altman, who met McBride when she was presenting as male, working as student body president with Queers and Allies to expand gender-neutral student housing, to promote the Day of Silence, and other efforts. "Seeing the reaction has made me really glad I go to AU. I transferred here, and the school I went to before this wouldn't have had this reaction. This shows who American University really is. People are not just accepting of her, but proud of her."
That pride is not limited to campus. Mara Keisling, executive director of the D.C.-based National Center for Transgender Equality (NCTE), is also impressed with McBride.
"Sarah is remarkable," says Keisling. "She already has quite an amazing political résumé. She's just going to be a really important, amazing, significant and visible trans person, I'm convinced. She's smart, amazing and committed to public service. I think that's why she's been willing to be visibly out.
"It's amazing when anybody comes out. The work we do at NCTE is really important, but the most important work is when people come out and educate their families, the people they know. She had an opportunity to educate the American University community all at once, and executed it spectacularly."