When it comes to home, Chef Art Smith might say north Florida, where he was born, or Chicago, his adopted home where he lives with his husband, artist Jesus Salgueiro. But like his neighbors in Chicago's Hyde Park/Kenwood neighborhood, the Obamas, he's also made himself quite at home in the nation's capital.
Truth be told, D.C. has always had a place in Smith's heart, whether from the stories he'd heard from his father, who served as a congressional page, or from a great aunt.
"She was like my Auntie Mame," Smith shares. "She always messed around in TV, worked with Steve Allen and some other great people. She was a Washington Redskins weather girl on TV. She lived in Crystal City, had an incredible life. She was very impactful on me going into show business."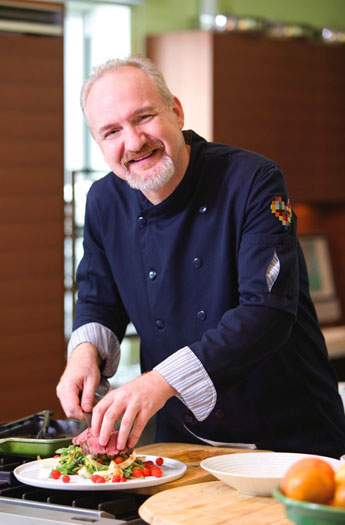 Chef Art Smith
(Photo by Kipling Swehlaopener)
That might be another of Smith's homes: the spotlight. Smith has moved from serving as Oprah Winfrey's chef to getting in front of the camera. There's Top Chef Masters, Good Morning America, Iron Chef America – for starters. He's written three acclaimed cookbooks. He is in magazines, newspapers, and just about everywhere else.
But, again, D.C. has a prominent place in the mix. It's here that Smith opened one of his five restaurants, Art and Soul. It's here where he and Salgueiro wed in 2010. His Common Threads charity bringing together kids and food and art operates programs for local children. And, in April, he received the Capital Area Gay and Lesbian Chamber of Commerce (CAGLCC) Excellence in Business Award.
"We love how people have welcomed us to D.C.," Smith says of himself and his husband.
In a sense, he's returning the favor June 26. That's when Food & Friends – the local organization providing meals, groceries and nutrition counseling for people living with HIV/AIDS, cancer and other life-threatening illnesses – presents its 22nd annual Chef's Best fundraiser, with dozens of local restaurants filling the Washington Hilton with their wares. Art and Soul will be among them.
"To be quite honest with you, it' been the most successful restaurant ever," says Smith. "It's this little restaurant that stays incredibly busy. What I love about the restaurant is my partners there are extremely supportive of the LGBT community. And I love a place that'll let you have your dog – we have three, and five cats. It was a lovely, 'Welcome to Washington.' I've always had this love for Washington."
That love seems to be the grandest ingredient in Smith's pantry. From his husband to his hometown, from kitchens to kids, he pours it on.
METRO WEEKLY: Considering your work with kids, Common Threads, I want to know about your own childhood. The part of Florida you come from, that's not beaches and art deco. That's country.
ART SMITH: It is very country. It's a very rural part of the South. I grew up right on the border of south Georgia, north Florida. The county's called Hamilton, mostly known for the river that runs through it, the Suwannee. And author Lillian Smith came from there, who was a major activist for equality. She wrote a great book, Strange Fruit.
Even though it was the sticks, there was this amazing stuff. Zora Neale Hurston also wasn't from far away. Another who wasn't far away was Marjorie Kinnan Rawlings. It's interesting that in this kind of backland swamps part of the country, there was a lot of genius.
MW: What about the food in your youth?
SMITH: What kind of food?
MW: I don't know. Macaroni and cheese in a box?
SMITH: No, no, no. We had a farm, which we still have.
MW: What kind of farm?
SMITH: A family farm. We raised cattle and tobacco, but we had a garden. We ate from the land. I grew up that way. We did not eat processed food. Everything we made was from scratch, as they say. There wasn't a cake made from a mix, and there wasn't macaroni and cheese from a box. We didn't have that. I mean, it was there, but we didn't eat it. And once you've had the real thing, you sure as hell don't want the unreal thing.
When there's a funeral, there was a lot of food. When there's a celebration, there's a lot of food. It's a very emotional part of the country.
MW: You had a happy childhood?
SMITH: I was bullied quite badly in school. I recently asked my mother, "Do you remember it?" She said yes. I said, "Do you think they remember it?" "Yes, but they're nice to you now."
It's funny how you have to get famous in order for people to be nice to you.
There are things I totally reconnect back to my childhood. I recently saw that movie, The Help. Did you see it?
MW: Yeah.
SMITH: There's that scene where Aibileen (played by Viola Davis) has to leave the little girl, and the little girl is screaming, crying, because she doesn't want to be separated. I was raised that way. We didn't have separate bathrooms and all that stuff – my family, for the 1960s, we were pretty with it. But my father had two sons. One drove a tractor and one just wanted to play piano and whatever.
MW: You were the one who wanted to play piano?
SMITH: Yes. And I wanted an Easy-Bake Oven, but I never got one, because it was too girly.
My mother went back to work when I was 3 months old, and Leila raised me. She was our nanny. I was about 10 or 11 when I was separated from Leila. My father said, "She's spoiling you, Art. You won't be able to function in life." I swear, it was like saying, "Son, she's makin' you gay." He just couldn't figure out why he had a gay son.
MW: That must've left a scar.
SMITH: Oh, it was painful! Trust me, when I saw that movie I cried. I could see myself. One of the things about all that is I believe that what it did was make me more compassionate, more understanding.
MW: The separation from Leila?
SMITH: The separation, the way I grew up, everything. I don't think I could've worked for Oprah Winfrey if I hadn't been raised by a black woman. Period.