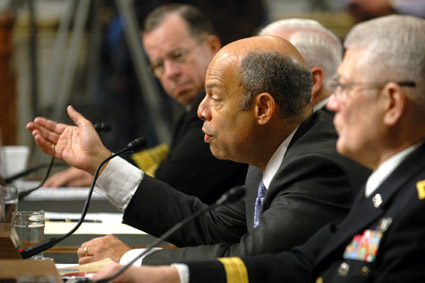 [Photo: Defense Department General Counsel Jeh Johnson testifies in favor of repeal "Don't Ask, Don't Tell" on Dec. 2, 2010. (Photo by Ward Morrison.)]
A week from Tuesday, the man who co-chaired the Pentagon's review of how to implement the repeal of "Don't Ask, Don't Tell" and then helped guide its repeal, Department of Defense General Counsel Jeh Johnson, will give the keynote address at the Pentagon's first LGBT Pride Month event, according to a department spokeswoman.
The 1 p.m. June 26 address is slated to be followed, according to the spokeswoman, by a panel discussion on "The Value of Open Service and Diversity."
In 2010, Johnson and General Carter Ham co-chaired the Pentagon working group that examined how best to implement repeal of DADT. In a December 2010 hearing of the Senate Armed Services Committee held after the release of the working group's report, Johnson made a "plea" to the senators to take legislative action to end DADT the year, which they did.
Human Rights Campaign vice president for communications Fred Sainz said of Johnson's leadership, "While others were core, Jeh really lead the process from beginning to end given the complicated morass of legal issues. He did so with great competence and dedication. He will be remembered for having done an outstanding job."
Center for American Progress vice president of LGBT Research and Communications Project Jeff Krehely tells Metro Weekly, "Jeh Johnson was integral to the DADT repeal process. He was incredibly responsive to organizations working on the issue, and always brought great energy and ideas to the table, along with the highest level of professionalism. Our community owes him a lot of thanks for his work and leadership."
Sainz added, "Repeal is a yawner today because of the great care and attention to detail he insisted on."
This past Friday, June 15, Defense Secretary Leon Panetta issued the department's first LGBT Pride Month message in a video that praised gay and lesbian servicemembers and addressed his own pride at the way the military had implemented repeal of DADT over the past nine months.
UPDATE @ 8P: Servicemembers Legal Defense Network executive director Aubrey Sarvis tells Metro Weekly, "Jeh Johnson was the key point person on repeal at DOD for Secretary Gates, the [Joint Chiefs of Staff], the White House, and for service members. It's safe to say that Mr. Johnson, along with General Carter Ham, were among the handful of people inside the Pentagon who were indispensable in the successful repeal of 'Don't Ask., Don't Tell,' and that time and history will eventually show just how large Mr. Johnson's role was in this historic event."