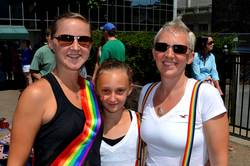 "It is not 'us' and 'them' anymore," said Krista Snow, the volunteer chair of Halifax Pride and former Halifax City Council member. "We have gone from a completely 'gay event' to a celebration for the entire Halifax community."
An estimated 100,000 people attended yesterday's Pride parade. With record participation by community organizations as well as national sponsors such as TD Bank, it took nearly three hours for the dozens of floats and contingents to weave their way through the streets of the historic maritime city.
The parade was just one of the activities that were part of this year's 25th anniversary celebration, which kicked off last Friday, July 20.
Among the many Pride events were a theater festival, a softball tournament (including an unofficial 'Dykes vs Divas' game), a Rainbow Flag raising at Halifax City Hall, a Song Writer's Circle, harbor cruises, and multiple dance parties.
Following the parade was the annual festival on the Garrison Grounds located at the base of the Citadel. Hosted by local drag celebrity Rouge Fatale, the festival's headliners included U.S. female rapper Young Kaii, Toronto singer Kevin Wong and Halifax-based band The Mellotones.
In recognition of the silver anniversary, the festival included for the first time a special fireworks display.
Unfortunately, this year's Pride took on special significance following the tragic murder of Halifax gay-activist and long-time Pride volunteer Raymond Taavel. While his death in April has not been officially classified as a hate crime, it gave extra meaning to an already milestone event.
Posters memorializing Taavel and promoting Pride could be seen throughout Halifax, and an empty convertible led the parade. A sign was posted on the side of the card that read: In Memory of Raymond Taavel.
Snow believes that Taavel's murder in no way takes way from Halifax's reputation as a gay-friendly city. As a matter of fact, many gay and non-gay attendees at the various Pride events spoke highly of the citywide recognition and mourning following his death and called it a testament to the city's acceptance of its large LGBT community.
Destination Halifax, the city's tourism bureau actively promotes the city as a destination for LGBT travelers. It launched an award-winning LGBT travel campaign in 2007 and operates the Rainbow Halifax website www.rainbowhalifax.com, which includes information on travel packages, accommodations and event listings.
Travel Note: Direct flights from the Washington, D.C. area to Halifax are available on Air Canada and United Airlines from Dulles International Airport (IAD).