While Wisconsin's capital city, Madison, is often dismissed by conservatives, including the state's Republican governor, as a liberal bastion out-of-step with the rest of the state, the college town has provided the perfect atmosphere for out gay state Rep. Mark Pocan.
A 14-year member of the Wisconsin State Assembly, first elected in 1998 to fill the seat of former assemblywoman and current U.S. Rep. Tammy Baldwin (D), the first out gay non-incumbent elected to Congress, Pocan is now seeking Baldwin's seat in the U.S. House of Representatives, while she runs for U.S. Senate.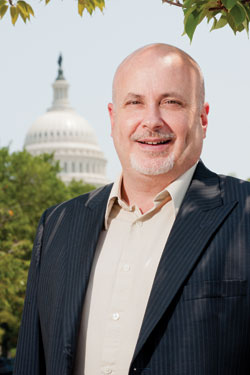 Mark Pocan
Photo by Todd Franson
In Wisconsin's heavily Democratic 2nd Congressional District, Pocan faces three other Democrats, including a fellow assemblymember, in an Aug. 14 primary that, barring an upset, will likely determine the outcome of the general election.
When asked what strengths he brings to the table relative to his competitors, Pocan first cites his 14 years in the Assembly and his leadership roles serving as the head of the Assembly Democratic Campaign Committee, which helped Democrats successfully gain control of the chamber in 2008 after 14 years in the minority, and as co-chair of the Joint Finance Committee for six years. He also has business experience, having owned and operated a printing company specializing in large-format graphics for 24 years.
On the policy front, Pocan's list of legislative accomplishment reads like a checklist of the major issues touted by left-leaning progressives, ranging from the extension of 41 rights of marriage to same-sex domestic partners, to partner benefits for state and university employees, to education, access to contraceptives and access to health care.
Appropriately, Pocan says the Congressional Progressive Caucus is a "natural place" for him to fit in if he is elected to Congress. He has been endorsed by one of the caucus's co-founders, U.S. Rep. George Miller (D-Calif.), in the race to succeed Baldwin.
And Pocan doesn't shy away from controversial issues, embracing the recently upheld federal health care law as an important first step in improving access to health care.