It was only a few days ago that the world of Washington politics and punditry was in its most self-congratulatory mode: Politics was about to get serious again, with Mitt Romney's pick of Paul Ryan as a running mate being the magical unicorn powder that would finally spur "serious" discussion of the nation's problems. But then, it being August in an election year, everything got really stupid, really fast (thanks, Missouri).
Actually, first things got really scary. No one can downplay the act of violence at the headquarters of the Family Research Council (FRC). A man connected to our community decided, for reasons as yet unknown, to take a gun and shoot people he disagreed with. The fact only one person was shot and no one died doesn't lessen the impact. Our community understood that and came together quickly and decisively to denounce the shooting and offer sincere sympathy for the security guard who was wounded and the staff who were terrorized.
But then FRC president Tony Perkins chose the next day to aggressively attack the LGBT community, claiming that by labeling his organization as a "hate group" — as the Southern Poverty Law Center has done — the shooter had been given a "license to kill." Later Perkins extended blame for the shooting to President Obama, as well.
Never one to shy away from a moment of self-aggrandizing opportunity, National Organization for Marriage (NOM) president Brian Brown immediately began fundraising off the shooting, and this past Tuesday sent a letter to supporters saying, "We're not going to allow gay activists to get away with attempted murder!"
This being FRC and NOM we're talking about, it's no surprise to us to see them taking advantage of a situation by bending truth, twisting facts and outright lying. They've engaged in this behavior for a long time. It's not second nature to them, it is their nature.
So, into this wades Washington Post columnist Dana Milbank, who set off a firestorm with a column denouncing LGBT groups for calling FRC a "hate group." It's not hard to compress Milbank's argument, because it's not much of one: Because FRC is a "mainstream conservative think tank" it can't be a hate group because it's not the Ku Klux Klan. Apparently, only people who wear a white hood and brandish a swastika can be labeled "hateful."
Unless, perhaps, the KKK opens an office on K Street, in which case we would need to begin carefully considering their policy proposals.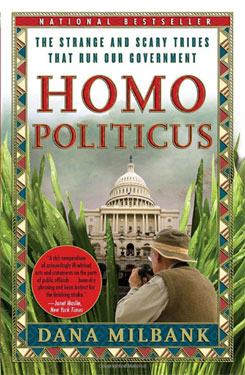 Dana Milbank's "Homo Politicus"
Milbank's column is ludicrous because we know that to regularly call LGBT people pedophiles — the polite word for "child molesters" — is to traffic in hate. (Andrew Sullivan argues that we should call it "bigotry" rather than "hate," which is a little bit too to-may-to/to-mah-to from my perspective.) As John Aravosis at AmericaBlog has thoroughly documented, FRC has a years-long history of falsified reports, outrageous lies and horrible slanders. But for Milbank, a downtown address on the FRC letterhead makes the rhetoric just another part of the political dialogue. And he doesn't like being called on it, griping on Wednesday to The Advocate that his radio interview on the topic with Michelangelo Signorile was "an ambush, and quite unfair."
You know it's ugly when journalists start complaining about being subjected to questions by journalists. Yet his Washington-insider support for the FRC is an attempt to mainstream hate, and he deserves the attention he's getting, no matter how prickly he finds it to be on the other end of the scope.
It's retroactively ironic that Milbank positioned himself as anthropologist of the "tribes" of Washington in his 2008 book, Homo Politicus. Milbank fancies himself the zookeeper for the wild ways of Washington, when he's actually just another monkey in the cage.