How does the song go?
"Just lots of good will, and maybe one small thrill, but there's nothing dirty going on."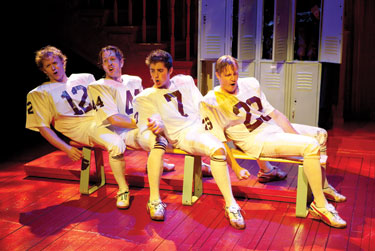 Best Little Whorehouse in Texas
(Photo by Scott Suchman)
The cast sings that line early in The Best Little Whorehouse in Texas. Of course, that song, "A Lil' Ole Bitty Pissant Country Place," is meant partially as a ruse. It's meant to dissuade ill will toward the show's century-old country brothel, dubbed the Chicken Ranch because it accepts customers' cocks – as in real-life birds – in lieu of cash.
But somehow, you expect more from a show about prostitution and relationships – in Texas. Certainly you expect more from a season-opening show at Virginia's Tony-winning Signature Theatre.
Yes, Signature's production of this crowd-pleasing, '70s-era country-fried musical, written by Larry King and Peter Masterson, with music and lyrics by Carol Hall, has its charms. And, yes, certainly more than one small thrill. At its basest, the show features seven "Girls" cavorting regularly in nothing but checkerboard-colored lingerie, as designed by Kathleen Geldard. They're eventually paired with seven "Aggie Boys" – including one-time Metro Weekly Coverboy Ben Horen – seen stripping out of their football uniforms and down to jockstraps, all while singing about scoring more touchdowns, so to speak, and dancing to Karma Camp's machismo choreography. By the end of Act 1 alone we've seen several fully exposed male backsides.
This cast of Signature All-Stars is also, all told, as dazzling as you'd expect. Over the years, Sherri L. Edelen has proven herself to be possibly the Signature stable's most versatile actress, and she sings and acts her heart out in Whorehouse as the brothel's madam, Miss Mona Stangley, a role famously played by Dolly Parton in the movie and later Ann-Margaret on tour. Edelen appears in most of the show's numbers in some fashion or another, and her charisma helps carry the show.
Still, you can't help but wonder, what if Signature had really shaken things up and put Nova Y. Payton in the lead instead? Payton stole the show – and took home a Helen Hayes Award – as Motormouth Maybelle at Signature in last season's Hairspray, and she almost steals the show again here as Jewel, Miss Mona's right-hand woman, the Chicken Ranch's bookkeeper. "Twenty Four Hours of Lovin"' becomes a standout number in the show with Payton in the lead, and further proof that any show with Payton in it is worth seeing, full stop.
Signature's artistic director, Eric Shaeffer, waxes on in a director's note about how Whorehouse is "more relevant today than ever," and that by staging the show now he hopes "to start a real conversation" about the sorry state of affairs. Our reality-TV-soaked culture is ruining lives, he asserts, in a similar way that the show's TV personality Melvin P. Thorpe (Christopher Bloch) ruins lives by leading a successful political crusade to close down the Chicken Ranch.
The Best Little Whorehouse in Texas


AND A HALF
To Oct. 7
Signature Theatre
4200 Campbell Ave.
Arlington
$39 to $86
703-820-9771
signature-theatre.org
At best, you'll leave entertained at the whole spectacle, without much thought to larger, reality-TV import. At worst, you'll leave thinking about how much heavy lifting went into such a lighthearted, lightly revised romp, and what this might augur for a season also ushering in productions of relatively tried-and-true fare such as Dreamgirls, Hello, Dolly! and Company.
But hey, don't go crazy. As the show cautions in "Hard Candy Christmas," don't let sorrow bring you way down.
UNLIKE THE REGULAR THEATER, you don't go to Cirque du Soleil expecting to think too much. The show's creators and producers aren't trying to provoke conversation about anything other than the company's achievements in human strength and agility, as well as staging and technology.
So don't read too much into Cirque's latest traveling show Totem, now at the National Harbor. Robert Lepage's show ostensibly tells the story of human origin, including an act displaying physical evidence of ape-to-man evolution.
But even head-in-the-sand creationists won't be put off by this show, which dazzles in the typical Cirque way, mostly language-free and multicultural. Totem loosely interprets various legends about the origin of species, and doesn't glom onto anything specific. Really, it's the simple evolution of the circus that Cirque du Soleil sells best. This is not the ethically questionable, animal-focused kids show you grew up with. Instead, the focus is on gymnastic feats all performed by (super-)humans. You'll be on the edge of your seat, for example, during the show ending "Russian Bars" act, in which performers jump to and from precariously hand-held, neon-lit inflatable bars, worrying that one of them might fall. (Nothing to worry about, in the end.) And that's just one "act" out of 11 in the two-hour show, not including intermission.
Totem



AND ONE HALF
To Oct. 7
The Plateau at National Harbor
201 Harborview Ave.
National Harbor, Md.
$43.50 to $153.50
800-450-1480
cirquedusoleil.com/totem
Oh sure, you might wish for more of a real story – and you could certainly do without the unnamed folksy, stereotypical Italian buffoon who serves as the show's emcee, interacting with the crowd. But just keep your focus chiefly on the acrobatic feats of the performers, plus Kym Barrett's vibrant sense of costuming, and Pedro Pires's awe-inspiring work with digital projection – his rotating screen platform morphs with and responds to performers' movement and action at various points.
Oh, what a circus.