What's a gay man doing directing the female equivalent of a bromance? "I don't speak for all gay men when I say this," says For A Good Time, Call… director Jamie Travis, "but as a gay man, I love women and love stories about women."
Ultimately, the film's screenwriters and producers Katie Anne Naylon and Lauren Anne Miller decided Travis was perfect for their film, which is loosely based on the straight women's real-life friendship.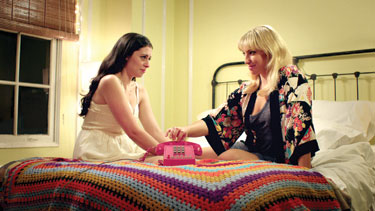 For a Good Time Call
"He said if a woman directed it, she would over-sentimentalize it," says Naylon, describing Travis's pitch. "And if it's a straight man, he'll over-sexualize the girls and they'll be objectified."
Instead, Travis considers For A Good Time…, in which the leads start an at-home phone sex business, a "very sex-positive film. I think the movie says something that most American movies don't say about sexuality, especially female sexuality."
The movie is officially part of a new Bridesmaid era, in which R-rated female-driven comedies are finally re-appearing after a decades-long dry spell. Naylon jokingly refers to the genre as "bra-mance," in which "two girls fall in friend-love."
The 33-year-old Travis is making his feature film directorial debut with For A Good Time… "His work is so stunning," the movie's star, Ari Graynor, says of Travis. "It's the difference of watching somebody who's good at what they do, and a fine storyteller and a real visionary."
Travis also inspired Justin Long's portrayal of the requisite gay best friend in the movie. "He recorded me reading lines from the script," says Travis of Long. "I felt very weird about it, [but] I see a lot of me in it." '
For A Good Time, Call… opens Friday, Aug. 31, at area theaters. Visit fandango.com.