An anti-gay Missouri Republican running for Senate is under fire for comments he made over the weekend saying that women rarely get pregnant from "legitimate rape" because "the female body has ways to try to shut that whole thing down."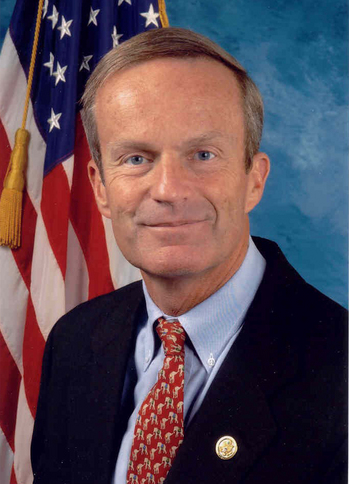 Rep. Todd Akin (R-Mo.) apologized for his comments in an interview with Mike Huckabee on Monday, but vowed to stay in the Missouri Senate race.
Describing his comments as a "very, very serious error," Akin credited them to "foot in mouth disease" and vowed to continue his fight for Democrat Clare McCaskill's Senate seat.
Gay rights organizations have joined in condemning Akin's remarks, noting his long history of anti-gay positions.
In a statement released on Monday, Human Rights Campaign President Chad Griffin said that Akin's "shockingly cold ignorance to the victims of rape" extends to his views of LGBT people as well.
"Over the last decade, Akin has been one of the leading voices in the House working against the best interests of LGBT people – he's against any kind of relationship recognition for same-sex couples; he's made remarks that are demeaning to LGBT families; he voted against the historic repeal of 'Don't Ask, Don't Tell,' and he refuses to support workplace protections," Griffin said. "Todd Akin is no friend to anyone who has experienced discrimination and is looking to their elected officials to protect their rights under the law."
The HRC has joined with Missouri's gay rights organization, PROMO, in condemning Akin's candidacy.
"Make no mistake, while Akin will attempt to back-peddle in his statement, when one examines his record and past statements, Akin is simply restating his beliefs loud and clear," said PROMO Executive Director A.J. Bockelman.
Akin, who came to Capitol Hill in 2001, has consistently scored a 0 percent on the HRC's Congressional Scorecard.
Akin's decision to stay in the race comes after multiple Republicans have distanced themselves from his candidacy and encouraged him to drop out, including Sen. John Cornyn (R-Texas), Sen. Ron Johnson (R-Wis.) and Sen. Scott Brown (R-Mass.).
According to POLITICO, the National Republican Senatorial Committee will withhold $5 million it planned to spend on the race if Akin does not step aside.
Presumptive Republican nominee Mitt Romney told National Review Online that Akin's comments on rape are "insulting, inexcusable, and, frankly, wrong."
"Like millions of other Americans, we found them to be offensive," Romney said.
During a surprise appearance at today's White House briefing, President Barack Obama also described Akin's views as "offensive."
"Rape is rape and the idea that we should be parsing and qualifying and slicing what types of rape we're talking about doesn't make sense to the American people and it certainly doesn't make sense to me," Obama told the White House press corps.
Obama added that what Akin's comments "underscore is why we shouldn't have a bunch of politicians, the majority of whom are men, making health care decisions on behalf of women."
McCaskill, who won the Missouri Senate seat in 2006, was polling behind Akin prior to his remarks. Now, she and other Democrats hope to fundraise off his comments. Although McCaskill does not support a constitutional amendment banning gay couples' right to marry, she does believe marriage equality should be decided at the state level.
Akin has until 5 p.m. on Tuesday to withdraw from the race or his name will officially be set to appear on the November ballot.
[Photo: Todd Akin (Courtesy of the U.S. House of Represenatives).]