He's the man about town who seems to know everybody, but who's hard to pin down. Not that you'd have a chance, since Nick McCoy is a dynamo.
McCoy, 36, wears a variety of different hats, from being a regular among D.C.'s political elite to the instigator clamoring for change. One moment he's rubbing elbows with councilmembers, the next he's protesting in the streets against hate crimes.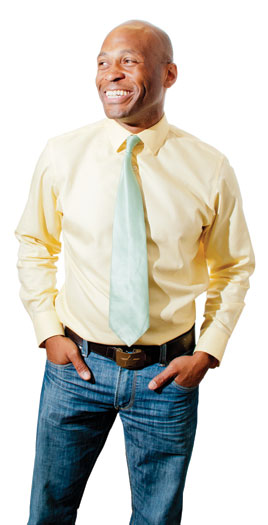 Nick McCoy
(Photo by Todd Franson)
Without a doubt, McCoy's passion is grassroots politics. His résumé reads like a list of nearly every pro-LGBT campaign imaginable, from organizing Youth Pride Day in Georgia to fighting for marriage equality in Maine.
"The only time I feel serene and with purpose is when I do this work," he confirms.
McCoy's dedication to LGBT rights should come as no surprise, given that he counts many local activists such as Richard J. Rosendall, Philip Pannell and Jeffrey Richardson, head of Mayor Vincent Gray's Office of GLBT Affairs, among his mentors.
Raised by his grandparents, his mother largely absent until he turned 24, McCoy's life has at times resembled a roller coaster with various ups and downs, at one point counting him among D.C.'s homeless population.
Stability has frequently been in short supply, but that doesn't mean McCoy doesn't have connections throughout the District and the nation, due in part to his work for several high-profile employers, including the Human Rights Campaign (HRC), D.C. City Council candidate Clark Ray, Councilmember David Catania (I-At Large) and former Councilmember Sekou Biddle (D-At Large).
Following this interview, McCoy accepted a position as a community relations specialist with the D.C. Taxicab Commission. But don't be fooled into thinking he's just going to sit back and collect a government salary.
Ever the impassioned activist, you're more likely to catch McCoy spending his free time at a church or ANC meeting, a safety walk or a protest. But McCoy also has that "it" factor, something akin to personal charisma that allows him to walk through a room full of strangers and introduce himself to each one, shaking hands and flashing a million-watt smile. Anybody watching McCoy in action could be forgiven for thinking he's the District's next young politico in the making. In fact, McCoy says, that's his ultimate goal.
METRO WEEKLY: Tell us a little about yourself. Who is Nick McCoy?
NICK MCCOY: I was born in the District. I was born in what is now a Trader Joe's, off of M Street. My grandparents raised me in North Carolina. And after that, I bounced around from North Carolina, to Georgia, to Maine, to Florida, to Connecticut, New Orleans, working on either issue or candidate campaigns. I've been back in the District now for five years. I got tired of bouncing.
MW: What sorts of campaigns have you worked on?
MCCOY: I worked on "Able" Mable Thomas's campaign. She was one of the youngest legislators ever elected in the state of Georgia. I worked on Anne Fauver's campaign, one of the only LGBT legislators on the Atlanta City Council. I worked on Georgians Against Discrimination as their director of outreach to people of color communities. New Orleans, I worked on Rebuilding Together, a post-Katrina effort. Basically, we were stripping homes that were dilapidated from the storm for pieces or parts that could be incorporated into other homes we were saving or salvaging. In Maine, I worked on the legislative campaign for marriage equality. North Carolina, Florida, I did a voter registration drive, where – alone – I registered over 3,000 people to vote. I was a deputy registrar in the states of North Carolina, Florida and Georgia.
MW: What inspired you to get involved?
MCCOY: My grandfather was the president of the Montford Point Marine Association, which was the people of color association for the Marine Corps in Jacksonville, N.C.
You know, North Carolina's not the most progressive place in the world. I talk about how my grandfather was a staunch leader himself. Our ancestral home he bought himself, sight unseen. Back in the day, people of color weren't allowed in the homes. You had to stand on the street and say, "Oh, we'll buy that." That's just the way it was. We were one of the first black families on our street.
My grandmother was a secretary for the Montford Point Marines, but she also ran voter registration drives. She really was on me about public speaking, incorporating my own ideas, making sure I didn't rely on other people's quotes, making sure I could find the appropriate language for a respective audience.
They were my motivating factors. I think one of the first events I ever did was organize an LGBT Youth Day at the State Capitol in Georgia.
MW: How old were you then?
MCCOY: I was 24, 25. I worked with Youth Pride and Sen. Vincent Fort. Sen. Vincent Fort was the author of predatory lending legislation in Georgia, which was rampant at that time. What got me was I was going from legislator's office to legislator's office, asking for them to come and sit on the panel and talk to these kids, just give them a perspective of what it's like to be a legislator, what it's like to represent them, you know? And I would go in some legislators' offices and they would be like, "I don't believe in it," "I'm not having these kids on the Hill," "The Gold Dome does not serve transgender youth," "The Gold Dome does not support queers." I'm going into a legislator's office, who is supposed to represent everybody in Georgia, regardless of disparities in race and class, whatever. You would think there you wouldn't have someone tell me to my face that this place is not here for transgender youth.
So that was driving an angst in me. I wanted to make sure LBGT youth, and youth in general, have an access to civics and understand the role of a legislator and how it affects them in their day-to-day lives.
And I've been fortunate to work on marriage campaigns in three states, successful in two.
MW: Which states were those?
MCCOY: Georgians Against Discrimination was working on an initiative to push marriage equality back then. That was the first state. We were unsuccessful. Maine was a success story. D.C. was a success story. I was one of the campaign directors for HRC for the marriage-equality campaign here.
Actually, it was odd. I was in Maine, working with the [National Gay and Lesbian] Task Force as a volunteer, training volunteers to do in-person volunteer recruitment and data entry. I met [Task Force Deputy Executive Director] Darlene Nipper and Jeffrey Richardson, and those guys were like, "Come home. Come home and work on marriage with us."
So I came back here and did the first public event, the convocation, "Our Time Is Now." I organized that.