In December 2011, Johnny Skandros, aka "Johnny Scruff," turned 30, a threshold that consumes some gay men.
"I was working on Scruff," says the co-founder of the popular mobile-phone application. "I've just been kind of going nonstop. It didn't even dawn on me I'd turned 30."
One motivation for creating Scruff, says Skandros, was to find a boyfriend for himself. With the devotion he put into the app, one might say he's married to Scruff.
It's also his baby.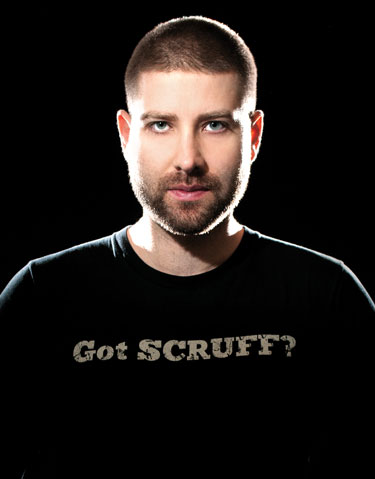 Johnny Skandros
(Photo by Todd Franson)
For the uninitiated, Scruff is an app that gay men around the world use to spot each other. Maybe it's for a hook-up, maybe for dates, maybe for a sense of community. Using GPS technology, Scruff will tell a user who is in his immediate vicinity, sometimes registering a reading so close the babysitter may indeed think the call is coming from inside the house. In Scruff's case, however, it's not a phone call, but a "woof."
But while that "woof" may be coming from inside the house, it may also be coming from the other side of the planet. Look at a grid featuring the neighbors, or take a peek at the world. Why take a gander at the guys 200 feet away when you can look 7,000 miles? It's all there in the palm of one's hand.
Like any man with a family – even if Scruff is but a virtual husband and child – Skandros has had to work hard to support that family.
"It's ads and subscriptions together, that's how we were able to survive and hire staff and move to New York and have an office and really keep Scruff going," Skandros says of monetizing his app, which is available at no cost, or with subscription rates for enhanced features. "It's not an easy business. It's really expensive to run. I think a lot of people don't realize that. Talent and engineers are very expensive to hire. Servers are very expensive to run. Thankfully, people are subscribing. That's what's keeping us going very strong. We recently become a top-grossing app in the App Store, which is awesome. It says a lot."
But all work and no play is not the Scruff image. And Skandros, more than anyone else, is the image of the Scruff brand. So, sometimes play is the work. Speaking from New York, Johnny Skandros explains how all the pieces fit together.
METRO WEEKLY: I just caught some photos of you in L.A. for the July 20 Bear City 2 premiere. How was that?
JOHNNY SKANDROS: The premiere was a lot of fun. That theater, the Ford Amphitheatre in L.A., is just a really impressive space. It's outdoors, a really beautiful theater. It was jam-packed, all kinds of people.
To see Scruff, the product, on the screen, was the most fun for me. I couldn't care less about my cameo.
MW: What was your role?
SKANDROS: I have a small, little role where I walk in with this guy who is my current husband – maybe a minute or two of screen time. It's not a featured role. It's just a small, little part, which is fun. The main thing is having Scruff the app throughout the film, which is really cool.
MW: That's great product placement. But what do you mean by "husband"?
SKANDROS: Movie husband.
MW: You haven't gotten married?
SKANDROS: No, no, no. Oh, my gosh. I'm so single.
MW: You were also just at Lazy Bear Weekend in Northern California. From the outside, your life looks like some kind of crazy party.
SKANDROS: Crazy party?