An utterly giggle-worthy mix of satire, irreverence and fuel-injected wit, the Shakespeare Theatre Company's souped-up take on Nikolai Gogol's The Government Inspector seriously raises the bar. For those who like their humor like they like their food — highly processed and full of high fructose corn syrup — this kind of lean, mean cuisine may leave them agog. But for everyone else The Government Inspector is a refreshing change from the usual safe-but-dire comic menu so often served in mainstream theater. High praise to director Michael Kahn and adapter Jeffrey Hatcher for interpreting Gogol's play into something that they, no doubt, would like to see and damn the tourists.
That's not to say that this is some kind of "occupy STC" alternative — there's plenty of the conventional here, humor and otherwise. Indeed, with the simplest of plots, silly characters in silly costumes, slapstick and one-liners (low and high in brow) flying like balls out of a tennis machine, everyone will get hit with at least something. It's just that, along with all that, there is an overarching sensibility so often missing from such crowd-pleasers.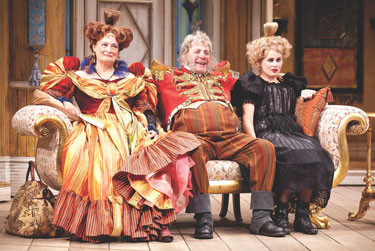 The Government Inspector
(Photo by Scott Suchman)
Setting the tone, much as he did with last season's spectacularly good Much Ado About Nothing, Derek Smith plays Hlestakov, a feckless young man who is mistaken by a small Russian township for an all-important visiting government inspector. Ridiculous, pompous and truly funny, Smith's man is pitch-perfect, whether he's throwing himself across the furniture, flipping a one-liner or standing stock still. It's the je ne sais quoi of what makes one actor funny and another not, but for Smith, besides the superb comic timing, it's about a certain intelligence behind the performance. He can deliver his wit with the glint of a rapier and, a second later, be giving even the hokiest stunt the kind of absurdity that would make a cynic snort.
Of course, no man is a vacuum, and Smith has much to play against in an ensemble of some of Washington's most seasoned performers. Peopling the bribe-driven town in which Hlestakov finds himself is a ridiculous mix. Blustering and determined to keep the supposed inspector happy at any price, Rick Foucheux's Mayor Antonovich is an energetic anchor to the proceedings. As The School Principal, Craig Wallace has a noticeable knack for silly but understated humor, while David Sabin gives The Judge just enough kick to keep him out of musical theater territory. Always a standout and offering as much élan as he does comic timing, Floyd King imbues his Postmaster with endearing impudence.
As the mayor's robust and randy wife, Anna Andreyevna, Nancy Robinette's sing-song delivery feels a tad whimsical for this go-getter, but she never misses a beat and her pleasure in playing this pretentious, big-bustled woman is infectious. Bringing an inspired Goth deadpan to spoiled daughter Marya Antonovna, Claire Brownell hits it out of the park and works great chemistry with Smith.
In smaller but very memorable roles, Sarah Marshall plays her various plebs to the hilt, tongue firmly in non-politically correct cheek (and does her best to carry the only scene that lags, when three merchants compete for the Inspector's attention. Liam Craig gives Hlestakov's long-suffering servant Osip the kind of flat-line delivery, with a subtle attention to detail, that brings an all-too-rare comic edge and, as The Doctor, Tom Story acquits himself with mischievous aplomb.
THE GOVERNMENT INSPECTOR





To Oct. 28
Lansburgh Theatre
450 7th St. NW
$xx – $xx
202-547-1122
shakespearetheatre.org
Balancing nicely their Tweedledee and Dum roles with some very amusing repartee (sometimes delivered a little too fast to catch), Hugh Nees as Bobchinsky and Harry A. Winter as Dobchinsky, the two townsmen who start the fracas, complete the ensemble of buffoons. In Gogol's mind, these two were meant to represent the large and anonymous Russian middle class, eager for power and identity. As adapted, this doesn't jump out. What does, and, as such, certainly constitutes part of the fun of the evening, is spotting the parallels between this grasping little town and the big one in which it's currently playing.
And there is some comment to be found amid the frenzy. Hlestakov's drunken cri de coeur on the faceless masses being one such moment. But the beauty here is that, just as the moment gets even a whiff of the serious, it gets an even bigger whiff of the ridiculous. You can't buy that for love or money. Well, actually you can. Get a ticket.