Jacques Brel's "Ne Me Quitte Pas," usually translated in English as "If You Go Away," stands as one of the best songs ever written, holding up in every cover, whether by Nina Simone or Barbra Streisand, Sting or Shirley Bassey.
Right now, Natascia Diaz, one of D.C. theater's greatest performers, is polishing the standard at MetroStage in Alexandria, in Jacques Brel is Alive and Well and Living in Paris (}}}}}), a revue of the late mid-20th century Belgian songwriter. It's a show, evocatively directed by Serge Seiden, and featuring subtle but effective choreography by Matthew Gardiner, that anyone who loves pop music and the theater should see.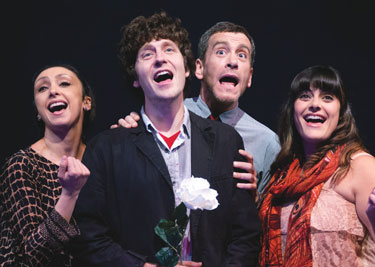 Brel: Natascia Diaz, Sam Ludwig, Bobby Smith, Bayla Whitten
(Photo by Christopher Banks)
Brel's music is rock with a very theatrical bent, which would go on to inspire David Bowie and Soft Cell's Marc Almond, to name just two. In fact, many of the songs sound like numbers from musicals written over the past few decades, including those by Andrew Lloyd Webber (Cats) and Claude-Michel Schöenberg (Les Misérables) – all written, in other words, after Brel died in 1978 at only age 49. If he had lived longer, you can't help but think he might have created some hit musicals of his own.
It's surprising that more people don't know Brel. But then Brel's underappreciated artistry adds to the power of the show. The MetroStage performers – four singers and three musicians led by pianist Jenny Cartney – aren't just singing or playing parts, showing off their fine chops; they're sharing the Brel experience as a kind of communal, bonding experience. Diaz, for example, actually tears up performing the sweet, twinkling lullaby "Old Folks," and then again in the finale "If We Only Have Love." By this point, every member of the ensemble seems fully invested in Brel's world.
All told, Brel is a powerful night at the theater, the kind of night you might not expect in a still-largely industrial part of Alexandria on the river's edge – unless you've been to the unassuming but high-caliber MetroStage before. Jacques Brel just may be the most moving show on any stage currently running.
Jacques Brel is Alive and Well and Living in Paris runs to Oct. 21 at MetroStage, 1201 North Royal St., Alexandria. Tickets are $48 to $55. Call 800-494-8497 or visit metrostage.org.