The suicide of an ex-girlfriend, a close friend, taught Clif the importance of finding and embracing the positive aspects of life and to let go of doubts and negative feelings. In short, enjoy each day to its fullest. As a result of that hard lesson, this self-described "military brat" and 27-year-old Maryland native likes to stay active by hiking, playing soccer, biking and catching up with the latest horror or action movie. While he doesn't drink, Clif will go out to bars or clubs with his friends, although you're more likely to catch him tearing up the dance floor instead of pressed up against the wall. His venues of choice include JR.'s and Town.
What's on your nightstand?
ASL flash cards, a Clean Linen candle and a treasure chest with condoms and lube in it.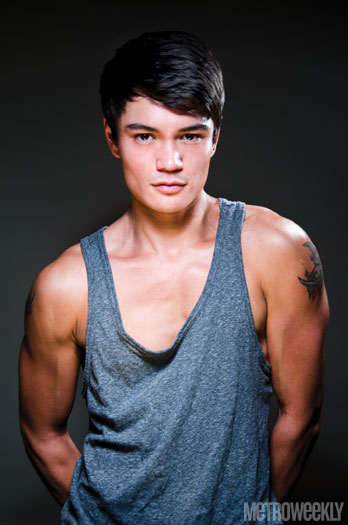 Coverboy: Clif
(Photo by Julian Vankim)
What's in your nightstand drawer?
Sunflower seeds, Nutella and a hammer. As well as some random items like cards and headphones.
What are your television favorites?
The Walking Dead, American Horror Story and Dexter.
What was your favorite cartoon when you were a kid?
Transformers: Generation 1, G.I. Joe and Jem. I used to watch TV with my little sister, and she had to sit through Transformers and G.I. Joe, so I had to watch Jem with her.
What superhero would you be?
Venom, the black Spider-Man.
Who's your greatest influence?
A friend of mine who passed away. She was my ex-girlfriend, actually. She committed suicide, and it really affected me a lot. It taught me the importance of keeping happy and trying not to let things keep me down.
What's your greatest fear?
Being at the bottom of the ocean.