Fort Lauderdale, FL
Of course, it's not all ordinances and no play for the commissioner. She knows the simple pleasures her neck of the woods has to offer in autumn.
"The temperature begins to drop a little bit. You go from 90s and high humidity to 70 to 75 and low humidity," she says invitingly. "The water will still be somewhat warm."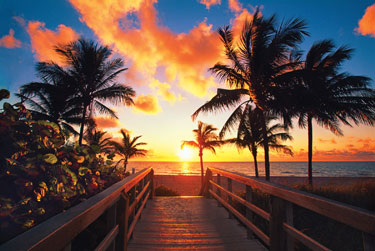 Fort Lauderdale, FL
(Photo by Alan Maltz)
But is Fort Lauderdale/Wilton Manors full of only those hot guys Riss sees at Sebastian Beach?
"I think there are far more establishments that cater to men, but everyone is welcome," says Carson. "The women's party life is probably not quite as late or as long, but all of our bars are friendly to women. We have a couple very special women's bars, as well."
And should a hurricane swing by, Carson says the good people of Wilton Manors are adept at battening the hatches and mixing a cocktail.
Hurricane party know-how aside, another plus for fall trips to Fort Lauderdale is convenience. Heading into the season, three airlines – JetBlue, Spirit Airlines and US Airways – offer nonstop service from Washington National, while AirTran Airways/Southwest Airlines offers nonstop service from BWI.
As Riss puts it, "It's everything a gay tourist could possibly want."