When Brian Edwards of New Jersey discovered an engagement photo of him and his husband was being used in an anti-gay attack ad in a Colorado state Senate race thousands of miles away, he was shocked, heartbroken and livid.
"Why would anyone use our personal image in such an evil way?" Edwards asked when he made the discovery.
In the original engagement photo, Edwards and his husband, Tim Privitere, are seen holding hands and leaning in for a kiss in front of the Brooklyn Bridge. The photo is black and white and the New York City skyline can be seen in the distance.
In the mailer that was distributed in Colorado earlier this year to attack a Republican Colorado state senator who voted in favor of civil unions, the New York City skyline behind the kissing couple has been replaced with snow-covered pine trees. The black-and-white composition has also been altered to a brownish color.
"State Senator Jean White's Idea of 'Family Values?"' asks the bold text – with the misplaced question mark – across a red bar in the middle of the photo.
The attack ad landed in the mailboxes of Colorado voters earlier this year when Colorado state Sen. Jean White, who voted in favor of civil unions in the state, was running in a tough Republican primary. White lost that June primary to Randy Baumgardner.
"This photo represented our love and commitment and the many challenges we have overcome in order to share our lives together," Edwards said in July when Public Advocate received a "cease and desist" letter demanding the organization stop using the photo.
Today, three months after the couple first made the discovery, Edwards and Privitere, along with the photographer who took the photo, Kristina Hill, filed a federal lawsuit in U.S. District Court in Denver against the Virginia-based Public Advocate of the United States, which created the ad.
According to the couple, who married two years ago, the engagement photo was posted on their personal blog to share with family and friends. Public Advocate never asked for permission to use the photo and how the group discovered the photo remains unknown.
Suing for misappropriation of the photo along with monetary damages, the plaintiffs are being represented by the Southern Poverty Law Center, a leading civil rights group, which designated Public Advocate a "hate group" in March because of their repeated attempts to demonize the gay community.
"The lawsuit asks the court to hold Public Advocate accountable for their unlawful acts," said SPLC Deputy Legal Director Christine Sun in a conference call with reporters today. "Hate groups must answer for their actions."
Sun did not specify the exact monetary amount her clients are seeking.
The plaintiffs say they are suing the anti-gay group not only to take back a beautiful moment in their lives, but also to stand up for others that might be targeted in the future.
"We're here to take back our personal image and take a stand against such vile and disgusting actions," Edwards told reporters. "I cringe every time I look at what once was one of our favorite photos. All I see now is the defiled image used to attack our family and our community."
Hill, who took the photo, says she does not know how anyone could invade her clients' privacy and steal her work the way Public Advocate did.
"Now, instead of representing love, the photo represents the hatred and discrimination that gay people must still endure in our society," Sun said.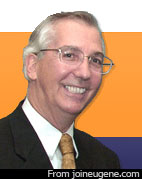 Eugene Delgaudio
Specifically, the lawsuit is directed at Eugene Delgaudio, president of Public Advocate. A fierce opponent of gay rights, Delgaudio has attracted attention for his outlandish comments, particularly because he is also an elected Republican official, serving on the Loudon County, Va., Board of Supervisors.
In his role as president of Public Advocate, Delgaudio has made countless anti-gay remarks over the years. Among other things, Delgaudio has criticized the Transportation Security Administration's nondiscrimination hiring policy because it is the "federal employee's version of the Gay Bill of Special Rights."
"That means the next TSA official that gives you an 'enhanced pat down' could be a practicing homosexual secretly getting pleasure from your submission," he wrote in one Public Advocate email.
In another email sent by the Public Advocate around Halloween 2011, a rainbow-colored bloodstain appears in an open doorway with a rainbow-colored handprint on the door. According to Delgaudio, the image was doctored by gay activists to appear similar to blood. He insisted it simply looked like paint to him.
The lawsuit filed by SPLC is part of broader legal troubles for Delgaudio. The Washington Post also reported today that Delgaudio has been accused by a former part-time staffer in his Board of Supervisors office of unethically directing county staff to solicit campaign contributions.
According to the former staffer, she has taken her complaint to authorities and been interviewed by the FBI for the accusation.
Delgaudio told The Washington Post that the accusation is false. He would not comment on the SPLC lawsuit, simply stating he was "looking into that."
Voicemail messages left at Delgaudio's office and home by Metro Weekly were not immediately returned.
The plaintiffs say they have not heard from Delgaudio since the cease and desist order was issued earlier this summer. Asked if there is anything he would like to say to Delgaudio if given the chance, Edwards's message is simple: "The things you say and the lies you spread are hurtful and have consequences."