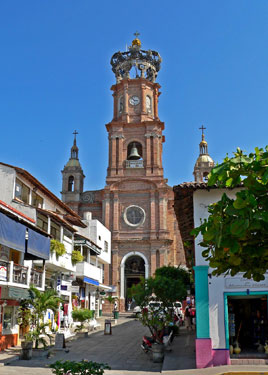 Puerto Vallarta
(Photo by Stan Shebs)
Home to a very visible gay community, Mexico City actually operates a government-sponsored initiative to market the city as a gay-friendly destination.
"I often have guests who are shocked by the amount of culture, history and hospitality in Mexico," says Francisco Aguiler, of Gay Tours Mexico. "From our beautiful beaches and natural attractions, to Aztec and Mayan ruins, to colonial villages and modern urban cities, Mexico has so much to discover."
Aguiler, who has more than 10 years of experience in the travel industry, believes that visitors who have never been to Mexico or who have concerns about visiting should consider a gay tour. His company, for example, was founded in 1998, making it one of the first LGBT travel agencies in Mexico. Gay Tours Mexico offers group travel to all parts of the country.
Olivia, the world's largest travel company catering to lesbians, has also been offering Mexico for many years. Next up for autumn is a six-night Puerto Vallarta vacation, Oct. 27 to Nov. 8, renting out the beach resort's Hard Rock Hotel. The all-inclusive week starts at $2,299 per person.
Already planning for fall of 2013, Olivia has scheduled a seven-night escape to Club Med Ixtapa. Located on Mexico's Pacific coast, the resort recently underwent a $20 million upgrade that includes refurbished rooms, three resort-exclusive restaurants and a new spa. The all-inclusive, early bird starting price is $1,229 per person.
For the beach boys, Atlantis Events offers Club Atlantis Vallarta Nov. 3 to 10 at Vallarta Palace. Already sold out, however, the best chance to join the fellas is a waitlist. The all-inclusive stay starts at about $1,400.
While these particular trips don't include airfare, getting to Mexico is pretty easy. Connections can get a sun-seeker to Puerto Vallarta, while nonstop flights from Washington Dulles International Airport hit Mexico City via Aeromexico or United Airlines. AirTran Airways offers nonstop service to Cancun from Baltimore-Washington International Thurgood Marshall Airport. And while American Airlines won't take you from the D.C. area to Mexico nonstop, the airline is offering discounted flights on tickets to Mexico to celebrate 70 years of service to the country.