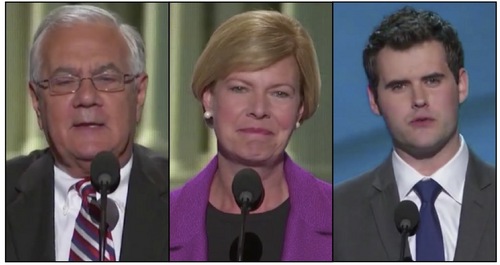 The Democratic Party wore their support for the gay community on their sleeve Thursday as the party's national convention came to a close.
On the final day of the three day convention, several high profile figures in the gay rights movement spoke to delegates in Charlotte, N.C.
Out gay Rep. Barney Frank addressed the convention early in the evening. Pointed in his criticism of Republican presidential nominee Mitt Romney, Frank said there are two Romneys — Mitt Romney and "Myth" Romney. The Massachusetts Democrat, who will retire in 2013, also blasted Romney's record on LGBT issues.
"There are a number [of issues] that interest me, like why it is that so many Republicans are afraid that my marriage will threaten theirs," Frank said, before quickly veering from his prepared remarks to discuss the financial crisis that catapulted Obama to the presidency.
"There's the Romney who was going to be better on gay rights than Ted Kennedy," Frank said. "And now there's the Romney who checks with Rick Santorum on that issue."
Frank's speech came hours after he doubled-down on his criticism of Log Cabin Republicans. Speaking before the 500 members of the Democratic LGBT caucus in Charlotte earlier this afternoon, Frank again repeated his assertion that Log Cabin Republicans are like "Uncle Toms."
"When they tell us that they're happy to be Republicans because they're getting acceptance and civility, I gotta say that I am again inclined to think that they're called the Log Cabin club because their role model is Uncle Tom," Frank said to the caucus, according to BuzzFeed.
Also addressing the convention was Wisconsin Rep. Tammy Baldwin, who hopes to become the first out gay member of the U.S. Senate this November.
Baldwin shied from the historical significance of her candidacy, but did applaud Obama's repeal of "Don't Ask, Don't Tell." Baldwin also slammed Romney and the Republican Party's support for a constitutional amendment banning same-sex marriage.
"Republicans want to write discrimination into our Constitution. But the Wisconsin I know believes that with each passing year and each generation, our country must become more equal, not less. Mitt Romney, Paul Ryan, Scott Walker, Tommy Thompson — they think they're the only ones who speak for Wisconsin," Baldwin said.
Baldwin's speech came the same day a staffer for her Republican opponent, Tommy Thompson, reportedly questioned Baldwin's "heartland values" in an email and tweet accompanied by a video of Baldwin dancing at a gay pride parade.
One of the youngest speakers to address the convention was 21-year-old Zach Wahls, the son of lesbian mothers who became an Internet sensation in January 2011 after testifying against an Iowa constitutional amendment banning marriage equality.
Wahls, who is straight and an Eagle Scout leading the fight against the Boy Scouts of America's ban on gay members, addressed the convention after a campaign video documenting Obama's support for gay rights. Wahls applauded Obama for putting his political future on the line to do what was right when he endorsed marriage equality.
"Governor Romney says he's against same-sex marriage because every child deserves a mother and a father," Wahls said. "I think every child deserves a family as loving and committed as mine. Because the sense of family comes from the commitment we make to each other to work through the hard times so we can enjoy the good ones. It comes from the love that binds us; that's what makes a family."
Wahls added, "Mr. Romney, my family is just as real as yours."
The speeches were just three of several delivered in Charlotte, N.C. this week that directly embraced LGBT voters, standing in stark contrast to the tone of the Republican National Convention last week.
Although speakers at the GOP convention only briefly touched on LGBT issues, those comments that were made were largely negative.
Also read: Obama Expresses Support for Gay Community in Convention Speech
[Photo: Rep. Barney Frank (left), Rep. Tammy Baldwin, and Zach Wahls.]