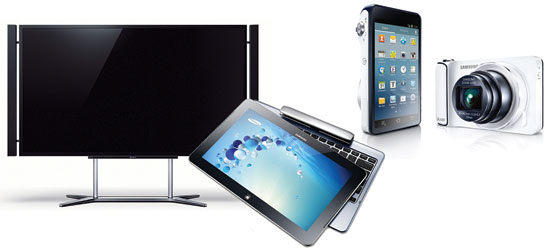 Sony brought its A-game to IFA 2012, one of the world's largest electronic trade shows held annually in Berlin. It also brought its B, C and D-games, too. In fact, Sony pretty much brought an entire alphabet of game, so stocked with announcements was its IFA press conference, covering almost every major tech consumable category. Essentially, the company has delivered an entire brewery of alcohol to a BYOB house party.
Samsung, meanwhile, took a hands-on approach to its IFA press event — literally, as all of its major announcements involved touch input of some variety. Phones, tablets, laptops, cameras — Samsung left few stones unturned as it unveiled numerous devices it's bringing to market to tempt buyers. And what temptations they are.
Phones
Sony announced three new smartphones to its crowded but appealing line-up of handsets — the Xperia T, V, and J. The T is the new top dog, sporting a 4.6-inch 1280×720 Mobile Bravia Engine-powered display, a dual-core 1.5GHz Qualcomm processor, a 13-megapixel camera (because 8 megapixels are so very last year), NFC capability and, Playstation certification for Sony's Android PlayStation games. The V is a curious mid-ranger, whose standout feature is iPx5/7 water resistance. So, drop it in a puddle and it'll keep on truckin'. Throw it in a pool and we'll ask what you were thinking, but it should still fare well down to about three feet. The V comes with a 4.3-inch 1280×720 display, the same 1.5 GHz dual-core as its big brother and the same 13MP camera.
The smallest of the three is the J. Aimed at budget-conscience but style-aware buyers, it makes do with a 4-inch display, a singe-core 1GHz processor, and a very 2009 5MP camera. However, it's a slender 9.2mm thick, and comes in black, gold, white and pink, so matching it to your equally fashion-conscience outfit should be a cinch. The T launches in the next month, with the V and J before the end of the year.
Samsung confirmed a successor to last year's surprise hit, the Galaxy Note "phablet," with the Galaxy Note II. Forget the S3, this is the greatest phone in the Korean firm's line-up. Last year's Galaxy Note surprised many, with journalists lauding the screen, the processor, the battery life and the overall performance of the handset, but many snubbing it for its size. As it turns out, that size is exactly what caused the Note to outperform Samsung's expectations, selling 10 million units worldwide.
So the Note II has some big shoes to fill — and it seems to, featuring appreciable jumps in specs. It increases screen size from 5.3 to 5.5 inches, with Samsung's HD Super AMOLED display outputting a 1280×720 resolution, signifying the change from 16:10 to 16:9. At just 9.4mm thick, the Note also includes a larger 3100mAh battery, which promises faster charging times. The increase in juice should also help power the 1.6GHz quad-core Exynos processor. There's Samsung's 8MP camera at the rear, and a 1.9MP front-facing affair for video calls and self-portraits.
Samsung also announced the ATIV S, the world's first Windows Phone 8 device. The beautiful handset, which eschews plastic construction in favor of brushed aluminum, benefits from the hardware updates in Windows Phone 8, and sports the same 4.8-inch 1280×720 HD Super AMOLED display as the Galaxy S3. It's a beautifully crafted handset that befits its premium status.
Tablets
Last year's Tablet S from Sony was a curious device. Launched alongside the Tablet P, it was the more conventional of the two, but sported Sony's unique magazine-style chassis, designed to mimic the feeling of holding a folded magazine. It was a great design, but the humdrum specs and plastic build ensured it never reached the stature of Apple's iPad.
Enter the new Tablet S. This time it bears Sony's Xperia branding, tying it to its smartphone cousins. In terms of specs, it's sadly more of last year's humdrum, although it does feature a metal casing and boasts some strong app selections from Sony, including access to the company's vast music and video vaults (for a price).
The more interesting of Sony's tablets is the newly unveiled VAIO Duo 11, Sony's first touchscreen model for the upcoming Windows 8. It's a hybrid PC, with the 11.6 inch, 1080p touchscreen sliding back to reveal a full QWERTY keyboard. That sliding screen features a digitizer, a boon for artists and fervent note-takers, as it allows for the use of a stylus. Inside, the Duo 11 matches the best of the Ultrabook crowd, with Core i3, i5 and i7 CPUs, 128 or 256GB SSDs, wireless NFC, GPS, and front and rear HD cameras. It's expected to launch near the October 26 release of Windows 8.
Samsung is getting into the Windows 8 swing of things, with three slates showcasing the updated OS, including the 10.1-inch ATIV Tab, one of the new ARM-powered Windows RT slates, which runs a custom version of the Windows 8 OS designed for the low-power SoC hardware. For those who prefer their tablets with full-fat Windows 8, Samsung has the new Series 5 and Series 7. The Series 5 is the budget option, with a 1366×768, 11.6-inch screen, but the more delectable is the Series 7. It too has an 11.6-inch screen, but with a Full HD 1920×1080 resolution. It's also much more powerful, packing an Intel Core i5 processor paired with 4GB of RAM. The Series 5 and 7 will be available at Windows 8's launch on October 26.
TVs
Sony is jumping on the 4K bandwagon with the announcement of its new Bravia KD-84X9005. In layman's terms? An 84-inch LCD TV pumping out content at 3840×2160 resolution. The gorgeous set includes Sony's X-Reality Pro Engine to ensure perfect picture quality, as well as a 10 Unit Live Speaker system. It's also 3D-enabled, and will automatically upscale 3D content, which at this resolution means Full-HD images to both eyes — as opposed to current 1080p 3D TVs which deliver a 540p image to each eye and combine to make a Full-HD image.
It's not strictly television, but Sony quietly announced its new HMZ-T2 Personal 3D viewer. The headset is a wearable 3D display, giving users a pair of 0.7-inch 3D capable displays utilizing OLED technology to create a Retina-shaming 1280×720 resolution across 1.4 combined inches of screen. Pricing and availability are as yet unannounced, but don't expect it to be cheap. Do expect it to be awesome, though, and likely available in time for the holidays.
Cameras
Think Android, and you're unlikely to think of a dedicated camera. Tablet, smartphone, even TV, but camera? Well, yes, actually. At IFA, Samsung announced the EK-GC100 — or Galaxy Camera — an Android Jelly Bean device with a huge 4.8-inch, HD Super Clear LCD display with a 1280×720 resolution. The screen dominates the back of the camera, while on the front, you'll find a 16MP 1/2.33-inch BSI CMOS sensor. Samsung isn't aiming the device at die-hard photographers, but its 21x optical zoom, f/2.8-5.9, 23-480mm lens should ensure that the resulting images are unlikely to disappoint. It comes as part of Samsung's SMART range of cameras, and features WiFi, 3G and 4G radios, microSD card access and a 1650mAh battery. The Galaxy Camera launches this October.
The NEX-5R, meanwhile, is Sony's new mid-range compact, featuring a Sony-developed 16.1 megapixel Exmor APS HD CMOS sensor, identical in size to those found in conventional DSLRs. Low-light sensitivity is touted as ISO 25,600, and the 5R features Sony's Fast Hybrid AF autofocus technology, which combines phase-detection and contrast-detection to "ensure speedy, accurate autofocus in any shooting situation."
In a first for a Sony mirror-less camera, the 5R, launching in October, also features WiFi — the go-to tech for cameras at the moment — and introduces Camera Apps, which are designed to enable different shooting modes and styles to further content creation. They will also allow for on-device editing and retouching, with apps being developed to give photographers greater personalization of their photos. Video comes in 1080/60p, and the camera boasts 10fps continuous shooting with autofocus tracking. DLNA is also included, gifting further options to share your holiday snaps with family, or show your friends that really cool flower you just had to get a black and white macro snap of.
Read expanded versions on both Sony and Samsung's offerings at our new technology and gaming blog, Technocrat. Go to metroweekly.com/technocrat. Sign up for email alerts at metroweekly.com/join.