Chris Wulin walked out his door in late September to find his neighborhood covered in fliers. One was in his door, another in his windshield, and several scattered on neighbors' stoops in the Patterson Park section of southeast Baltimore. There were two different versions of the flier, but both with the same message: Vote against Question 6 – against marriage equality – in November.
Question 6 is the Nov. 6 referendum seeking to uphold Maryland's Civil Marriage Protection Act, which legalized same-sex marriage. A vote on the law, in the form of Question 6, will determine whether the law can take effect Jan. 1, 2013.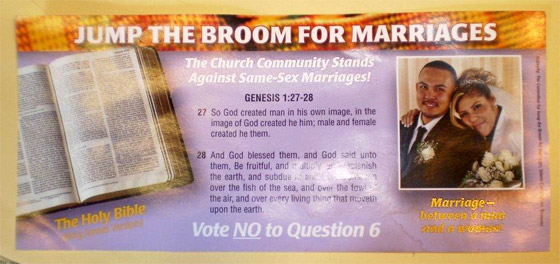 Example of fliers from Jump the Broom for Marriages, which were left on vehicles in Baltimore
The fliers were from a group called "Jump the Broom for Marriages." One flier contained a picture of a heterosexual African-American couple getting married, with the words: "If my mommy is my daddy, and my daddy is my mommy, what does that make my aunt?" followed by a biblical citation reading: "So God created man in his own image, in the image of God he created them; male and female he created them."
"They're using the Bible, this infantile logic," Wulin said of the fliers.
The second flier reads: "The Church Community Stands Against Same-Sex Marriages," and also quotes Scripture.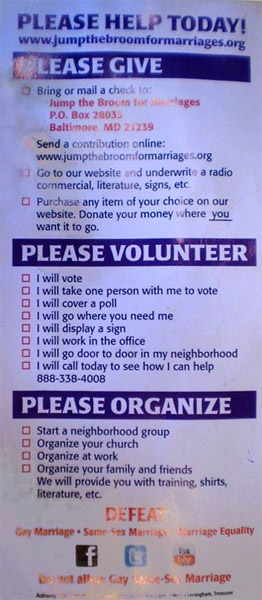 Back of Jump the Broom for Marriages flier reads: "DEFEAT Gay Marriage, Same-Sex Marriage, Marriage Equality. Do not allow Gay Same-Sex Marriage."
The fliers ask marriage-equality opponents to volunteer and vote against Question 6, directing them to phone numbers and a website where they can obtain more information.
"We're a more diverse neighborhood on this side," Wulin said of his corner of Patterson Park. "So it feels like they're specifically targeting our neighborhood and primarily African-Americans, especially with the 'jump the broom' language."
Although many cultures around the world participate in a marriage ritual similar to "jumping the broom" as a symbolic leap of faith, the phrase has more commonly been associated with a ritual practiced by slaves in America during the period prior to the Civil War. Because slaves were not recognized as legally married, "jumping the broom" acted to sanctify slaves' marital unions.
Wulin said he's concerned about the ability of pro-equality forces to compete with the ground game of opponents of Question 6. He also said he is afraid that supporters may be lulled into complacency by favorable polls and little contact with opposition.
"I know we're raising funds, but I don't see anyone on the ground from our side [in my neighborhood]," he said.
Messages left for organizers of Jump the Broom for Marriages, which, according to its website, is located in the Baltimore's Seton Hill neighborhood, went unanswered. The organization touts itself as "the vision of a group of individual who are working together to uphold the institution of marriage between one man and one woman." It also says its goal is to "restore and strengthen African-American families and communities."
The website also states: "Conceivably, the first civil right African-Americans obtained in this country was their right to marry. … A simple act of jumping the broom symbolizes the first civil right. Today, the gay community is saying marriage equality is a civil right."
The site is full of race-based appeals, including pictures of a "whites only" drinking fountain and of Martin Luther King Jr. being arrested in Birmingham, Ala. Accompanying text reads, "We know what a Civil Rights issue is. Gay Rights is NOT a Civil Rights Issue! Have you ever seen a water fountain for Gays only? Vote NO to Question 6. Do Not Allow Gay Marriages in Maryland."
Jump the Broom for Marriages also has ties to a political consultant who engaged in what seemed to be racially motivated political tactics in Maryland's 2010 gubernatorial election. The consultant, Julius Henson, was found guilty of conspiracy to distribute campaign material without an authority line to identify the source, which violates state election law. In May, the Maryland newspaper The Gazette reported that Henson was going to work with Jump the Broom for Marriages. The charge against Henson, an adviser to former Maryland Gov. Robert Ehrlich Jr. (R), who ran against incumbent Gov. Martin O'Malley (D), dealt with Henson's alleged role in helping send more than 100,000 misleading "robocalls" to Democrats in primarily African-American precincts in Prince George's County and Baltimore City advising voters that they did not need to vote because Democrats had already "been successful," hours before the polls closed on Election Day.
Marylanders for Marriage Equality, the coalition of labor, religious and community groups advocating for the passage of Question 6, did not issue a comment regarding Jump the Broom for Marriages. However, the group issued a media advisory in September warning that opponents of marriage equality would attempt to use race as a wedge issue, as was outlined in internal documents from the anti-gay National Organization for Marriage (NOM) that were leaked to the press in 2011.
While not commenting on this specific opposition effort, Marylanders for Marriage Equality has aired television commercials in the Baltimore media market, while seeking additional donations in order to tap into the more expensive D.C.-area media market. Meanwhile, opponents of Question 6 have begun airing their own television ads in the Washington media market.
In a positive development for marriage-equality supporters, the National Association for the Advancement of Colored People (NAACP), which has endorsed marriage equality, launched radio ads in the Baltimore and Washington markets Tuesday supporting Question 6. The ads feature Julian Bond, NAACP chairman emeritus, as part of its outreach to African-Americans, expected to make up a quarter of Maryland electorate in 2012.
Bond argues that Question 6 is not about religion, saying, "I believe people of faith understand this isn't about any one religious belief – it's about protecting the civil right to make a lifelong commitment to the person you love."