Last night, Kristen Chenoweth and Lily Tomlin led the honors at the Kennedy Center for Hollywood's preeminent cute and clever comic, Ellen DeGeneres. The occasion was the 15th Annual Kennedy Center Mark Twain Prize for American Humor, billed as "Comedy's Biggest Night." Joining a list that includes Richard Pryor, Carl Reiner, Whoopi Goldberg, Steve Martin and Tina Fey, DeGeneres received the Mark Twain Prize in recognition of her quirky observations and patented brand of hilarious, rambling non sequiturs – but even more for her successful perseverance and irrepressible good humor, even in the face of animosity.
A native of New Orleans, DeGeneres first gained national attention 26 years ago with a celebrated standup routine on The Tonight Show Starring Johnny Carson. But her fame spiked when she came out through her hit mid-'90s sitcom Ellen. Late night talk show host Jimmy Kimmel joked at the prize ceremony that before DeGeneres came out in 1997, "their dog groomer was the closest to a lesbian friend many Americans had." DeGeneres even paved the way for comedy giants like Lily Tomlin to finally, officially come out. "My partner Jane Wagner and I love you so much," Tomlin, the 2003 Mark Twain Prize recipient, said to DeGeneres from the Kennedy Center stage. "We're so grateful." Actors Sean Hayes (Will & Grace) and Jane Lynch (Glee) also credited DeGeneres at the ceremony for giving them the courage to come out.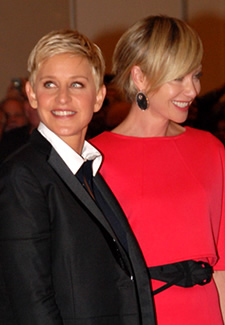 Ellen Degeneres and Portia de Rossi
(Photo by Aram Vartian)
"You really took one for the team," said Lynch, alluding to the fact that while in hindsight it might appear otherwise, DeGeneres's success as an openly gay celebrity didn't happen overnight. Many Americans didn't take to an openly lesbian DeGeneres right away. At least one ABC station refused to air Ellen's coming-out "Puppy Episode," and by its next season DeGeneres's once highly rated show slumbered to cancellation. A second eponymous sitcom subsequently flopped out of the gate. After that, DeGeneres reverted to standup and floundered for a few years in an industry that didn't know exactly what to do with her.
Until, that is, she found her new calling as an award-winning daytime talk-show host. Many of the funniest clips presented during the ceremony came from The Ellen DeGeneres Show and the amusing antics she often puts her celebrity guests up to. But even now, DeGeneres isn't beloved by everyone. Anti-gay conservatives periodically criticize her and the companies that hire her to be their spokesperson, most recently J.C. Penney.
Several presenters joked that PBS, which will broadcast this year's Mark Twain Prize next week, is next in line for conservative criticism. Especially so, given that Republican presidential candidate Mitt Romney has promised, if elected, to end federal funding for one of PBS's biggest celebrities, Big Bird.
"Thanks to everyone at PBS. I'm so happy to be part of your farewell season," teased DeGeneres on accepting the honor.
Ellen DeGeneres: The Mark Twain Prize is scheduled to air Tuesday, Oct. 30, at 8 p.m., on PBS stations nationwide, including WETA-TV Channel 26.