A new poll by Annapolis-based OpinionWorks done for The Baltimore Sun shows erosion among support for marriage equality among likely voters, with opponents holding a statistically insignificant edge of one point heading into the final week before November's election.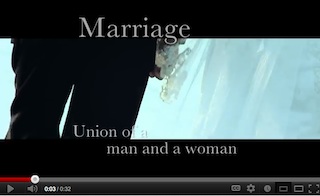 The poll, conducted from Oct. 20 to 23, asked 801 likely voters across the state the following question:
"This spring, the General Assembly passed and the Governor signed a law to make same-sex marriage legal in Maryland. Opponents of the law have gathered signatures to place it on the ballot for people to decide. In November, will you vote to make same-sex marriage legal or illegal in Maryland?"
In response, 47 percent of likely voters said they would vote to make same-sex marriage illegal, while only 46 percent said they would make it legal, and 6 percent either said they didn't know how they vote or refused to answer the question. The poll has a margin of error of 3.5 percentage points.
The latest numbers mark a significant turnaround from a Sun poll in September, when 49 percent of voters said they would vote to legalize same-sex marriage, while 39 percent said they would vote to make it illegal. The most significant drop in support has come from African-Americans, a majority of whom supported marriage equality in the September poll, but who now oppose it by a 50-42 margin.
The October poll also found that 70 percent of voters who attend a religious service once a week are opposed to the referendum on the marriage-equality law, also known as Question 6. Those numbers among religious voters are similar to findings from a recent Washington Post poll that showed voters who attend church weekly oppose Question 6 by a 63-32 margin, even though the Post poll showed the measure winning overall, 52 percent to 43 percent.
A bright spot for supporters of marriage equality is that 51 percent of women support same-sex marriage. Numerical breakdown of support among men was not available. The Sun also said that it found "strong" support among voters under 35, but Steve Raabe, the founder and president of OpinionWorks, told the Sun that voters under 35 are often unreliable voters who turn out to vote in low numbers.
While OpinionWorks and the Sun did not release the full crosstabs, demographic breakdowns of the September poll, according to their own language if African-Americans, who make up about a quarter of Maryland's electorate, supported marriage equality in September, that means that whites would have had to poll in the mid-to-high 40s to get an overall 49-39 in favor.
Most other polls have shown, similar to the Sun's most recent poll, a majority of African-Americans opposed, with marriage-equality support among African-Americans hovering in the low 40s. But those other polls have shown a clear majority of white voters saying they support marriage equality or will vote Question 6. In contrast, if the October Sun poll is accurate, and 42 percent of African-Americans are supporting the measure, then whites would again have to be polling in the mid-to-high 40s rather than a clear majority for support to reach 46 percent among all voters.
Maryland State Sen. Rich Madaleno (D-Montgomery Co.) told Metro Weekly at a rally at the University of Maryland at College Park earlier in October that he was skeptical of the results for the September Sun poll, noting that OpinionWorks asks voters whether "same-sex marriage" should be legal or illegal. Madaleno pointed out that Question 6 is not worded that way, and that the ballot language is relatively favorable to supporters. He speculated that the wording, which refers to "gay and lesbian couples" and expounds upon religious protections provided in the law, would likely encourage people to be more supportive of Question 6.
As it appears on the ballot, Question 6 reads: "Establishes that Maryland's civil marriage laws allow gay and lesbian couples to obtain a civil marriage license, provided they are not otherwise prohibited from marrying; protects clergy from having to perform any particular marriage ceremony in violation of their religious beliefs; affirms that each religious faith has exclusive control over itstheological doctrine regarding who may marry within that faith; and provide that religious organizations and certain related entities are not required to provide goods, services or benefits to an individual related to the celebration or promotion of marriage in violation of their religious beliefs."
Raabe was not immediately available to offer comment on behalf of OpinionWorks.
Part of the erosion in support for marriage equality in the most recent poll was attributed by the Sun to African-Americans who once said they supported the measure but are now undecided or are planning to vote against it. The Sun also attributed that shift to several television and radio commercials from the Maryland Marriage Alliance, the chief group opposing Question 6, that have been airing in the Baltimore and Washington media markets, as well as stepped-up efforts by religious leaders against marriage equality.
Because African-Americans make up one-quarter of the electorate in Maryland, a good deal of the advertising – on both sides – has focused on rallying support in the African-American community.
In an attempt to win over voters, particularly African-Americans, Marylanders for Marriage Equality, the coalition of groups supporting Question 6, has enlisted the help of various high-profile African-Americans, including several local and nationally known pastors, to educate voters about the marriage-equality law.
Marylanders for Marriage Equality recently aired a radio ad, "Listen Up" that invoked President Obama's endorsement of marriage equality. The spot features two African-American women talking about the upcoming vote on Question 6 and citing the reasoning behind Obama's support of marriage equality, which he cited in an interview with ABC's Robin Roberts.
The ad was later bolstered by a statement from the White House that expressed support for ballot measures legalizing marriage equality in Maryland, Maine and Washington state.
A spokesman for Marylanders for Marriage Equality was not immediately available for comment.
Other sources close to the campaign say their internal numbers are closer to the Post poll than the Sun poll, even as the race shows signs of tightening under the barrage of ads and mailers from groups such as the Maryland Marriage Alliance and Jump the Broom for Marriages.
If approved, Question 6 would make Maryland the first state to affirmatively vote to legalize marriage equality via referendum. Voters in 32 other states have approved measures to ban outright or repeal existing laws allowing same-sex marriage. Minnesota faces a measure similar to ones previously held in other states that would seek to alter the state's constitution to ban same-sex marriage, even though same-sex marriage is already illegal in Minnesota under an existing statute.