To some it's a delicacy called pâté; to others it's just fancy chopped liver. "Previously owned" is the evolution of the used-car business. And there's the "Pop-Up," which takes the transient nature of the flea market and combines it with recognizable brands to assume a new form – an art gallery, a nightclub, and most often a retail establishment – for a short period of time, sometimes just hours.
Empty spaces throughout the city as a result of the economic downturn have become perfect locations for pop-ups. It's a win-win-win situation in that landlords can make some rent money, the pop-ups get in for a small investment and residents are able to experience something new and exciting in their neighborhoods. Pop-up retail allows a company to create a unique environment that engages customers and generates a feeling of relevance and interactivity.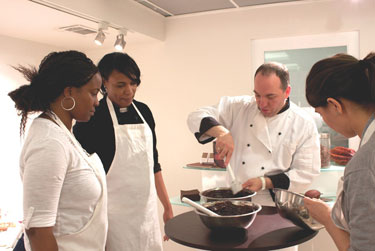 Robert Cabeca at work in Cocova
(Photo by courtesy Robert Cabeca/Cocova)
Los Angeles retailer Vacant was the first company to develop the concept of pop-up temporary shops, in 1999, exploring whether consumers would line up to purchase limited-edition products from niche retailers. Once the products were sold out, usually within a matter of hours, the store would close until the owners received more merchandise. This led Vacant to think about closing the stores permanently after the merchandise had been sold, and moving to another targeted destination. Many brands, from Target to Louis Vuitton, have used the pop-up concept as part of their campaigns.
Pop-up has substituted the notion of shabby and makeshift with creativity and an element of chic and exclusivity. CAGLCC has embraced the pop-up and will present it to thousands of attendees on Nov. 17 at g.life (g-lifeexpo.com).