The nation's capital has always been synonymous with civic participation. Congress – in theory, at least – is the pinnacle of community involvement. Then there are the countless national nonprofit organizations that establish themselves in the District.
That's the macro level. Much closer to these communities where we don't simply work, but where we live; in these intersections of skill sets and social networks, several new efforts have gotten underway to make this a better place by improving the lives of others. As these philanthropic undertakings join the ranks of long-established local entities like Eagle Wings or Brother, Help Thyself, and as you become more familiar with them, you will likely find yourself wondering not, "How do they do it?" but, "How can I help?"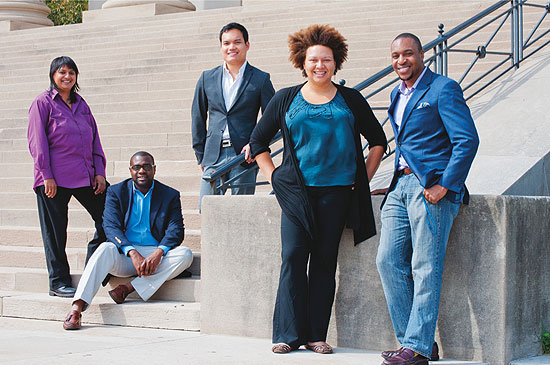 (L-R) Nagarajan, Richardson, Senephimmachack, Bavier and Myers
(Photo by Todd Franson)
KINDRED, AN AFRICAN AMERICAN LGBT GIVING CIRCLE
It's a sunny September Monday on Capitol Hill and, as always, one of the Hill's brightest spots is SMYAL – the Sexual Minority Youth Assistance League – which, since 1984, has been working to improve the lives of the area's LGBT young people. On this particular Monday, however, members of Kindred, "an African American LGBT Giving Circle," stopped by to meet some of SMYAL's Youth Advisory Board, learn more about the organization's programs, and to let members of SMYAL learn more about Kindred.
Following Kindred's first donation, a $13,000 gift to SMYAL – actually $13,213, SMYAL Executive Director Andrew Barnett points out – these two entities have entered into a sort of long-term relationship.
An effort that began some months ago, fueled by seed money from the Gill Foundation and directed by the dynamism of its five-member "Guiding Circle" and additional five members, this gift to SMYAL establishes Kindred as a powerful force for local philanthropy.
"To go almost three years to handing over this huge sum of money to a really wonderful organization for youth, that's extremely gratifying," says Anna Bavier, a member of Kindred's Guiding Circle, recalling a brunch where the idea of this giving circle was first discussed. "I can put this in the column of things I'm really proud of in my life."
Bavier's pride is matched by Barnett's gratitude at receiving the unrestricted gift.
"I was blown away," Barnett says of learning of the gift – not something for which SMYAL applied, but one that came, essentially, out of the blue following Kindred's hunt for the perfect round-one recipient. "It was tremendous. That kind of strong support goes such a long way for a community-based organization like this."
Kindred's mission reads, in part, that the circle "utilizes the power of collective giving to uplift the African American LGBT community in Washington, D.C. … [We] empower our community from within, nurture ourselves as philanthropists, and honor organizations working to enhance the lives of black [LGBT] people in the District."
It's a mission that aligns exactly with how Bavier hopes to impact that community, an alignment she says her Kindred peers share as vibrant Washingtonians.
"I'd thought about this for years: How can we do more as a community than come together for parties or for events other organizations are throwing?" she shares. "This is the point where we can collectively pool our money to make an impact.
"And you need to volunteer. How else can you feel good about yourself? If you can put a smile on someone else's face, it definitely lightens your load."
Bavier hopes that others will join Kindred's mission, which starts with a commitment of at least $420, but also seems content merely to help guide the way for others to make any kind of contribution.
"You don't need to join Kindred to make a difference in other people's lives," she grants. "Hopefully, we'll inspire people to join us, or to make bigger contributions in their own lives."
For those who may consider themselves kindred spirits, however, Bavier welcomes calls at 202-421-5755 or emails to kindredgivingcircle@gmail.com.