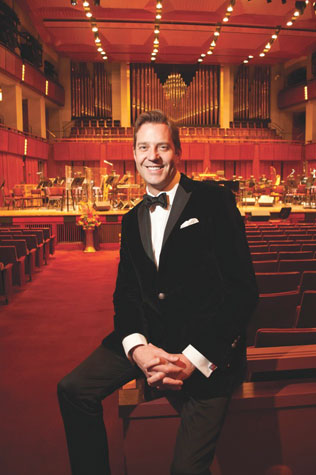 Steven Reineke
(Photo by Todd Franson)
MW: Before college, when you were just a kid, what did you think you might do for a career?
REINEKE: I always knew it would be in music, but I couldn't ever say exactly what that was going to be. I think my earliest thoughts were that I would end up being a professional trumpet player. I started playing the trumpet when I was 10 years old, in the fifth grade. And I really just took to it. I taught myself how to play the piano. We didn't even have a piano in the house. I would just plunk things out and play them in the band room after school, or at my friend Brian's house, after school. About my junior year of high school, in a concert, my parents were watching, and I had put my trumpet on my chair. And I walked over to the piano and played. And I didn't tell my parents I had been doing this. They were freaking out afterwards. Within a week we had a piano in the house. So, my parents have always been very supportive.
MW: Are they musically inclined themselves?
REINEKE: I credit my dad with a lot of my early love of music. My dad was a banker his whole life, his whole career, but he was also a guitar player, playing folk music. And he would sit on the edge of my bed and play and sing me to sleep just about every night as early as I can remember up until I was maybe 12 or 13. And he would play Peter, Paul & Mary, John Denver, Harry Chapin, all kinds of great folk artists. And so I was just always in love with music.
MW: Obviously you were serenaded to sleep with folk music, but what other genres of music did you listen to as a kid?
REINEKE: My tastes were varied and all over the map. I would listen to everything from Beethoven to the band Chicago and the Tower of Power. I loved it, especially being a trumpet player. I loved it all. And I enjoyed orchestral music a lot. Really got into that. But I also loved to play in Dixieland and in jazz bands.
I feel it's all a perfect fit for me being a pops conductor. Yes, I'm classically trained and I still do some of that music from time to time, but at the pops we play all repertoire of music, everything from Roberta Flack and Marvin Gaye to Beethoven, Beatles and Beyoncé.
MW: When did you come out?
REINEKE: I was 17 years old. I was a senior in high school, not long before I went off to college. It was a moment where I locked myself in the bathroom. I remember having a very tearful breakdown, and looking in the mirror and actually saying the words to myself, out loud for the first time, even though I felt it and knew it, even since I was 5 or 6: "I am gay." That was it. That was kind of traumatic. So for me, the hardest part about coming out is actually the point when you're honest about yourself. From then on out you get courage, and you realize you're not going to live a lie anymore, you're not going to pretend, have to be hidden in the shadows in the dark. There's no need for that.
MW: So career-wise, you've been out pretty much the whole time. Have you had any pushback, or any sense it's been a problem?
REINEKE: Never once. I've never had anything said to my face, nor anything that I would ever construe as any sort of pushback. Working in the arts, I don't think people care. I don't want people to care if you're a fireman, or a professional football player. It shouldn't matter. And also, yes, I'm very open about it, but it's also not this major, big part of my life. I mean, music and what I do for a living, and what I bring to the planet, is a more important part of who I am. The other part just happens to be who I love.
MW: Are you in a relationship?
REINEKE: I am in a relationship. I have a partner who just moved in with me. He's brought balance to my life. I still travel a lot, but I used to travel about 35 weeks out of the year, and it can get very lonely. Things can get out of whack when you don't feel grounded somewhere. And he's brought stability to me and something to always come home to. Plus, he gets to travel with me a lot.
MW: Your predecessor at the NSO Pops, Emil de Cou, is also out. Is it common for music directors or conductors to be gay?
REINEKE: No, it's not necessarily common. I don't think it's more common than this or that. Some people chose to be more private about it.
MW: But, at least in D.C., many of the leading arts and culture organizations are run by gay people.
REINEKE: I don't know. I don't want to try to stereotype too much, but there's also a reason why stereotypes are there. There are a lot of gay people drawn to being creative, and being artistic. When you look at some of the greats throughout history, including Leonardo da Vinci and Tchaikovsky, there's a multitude of wonderful homosexual people who have given a lot of beauty to this world.
MW: Standards singer and artist Michael Feinstein recently contended that part of the reason there's such a great political divide in our country right now is because we as a people don't share the same common bond of music that we once did.
REINEKE: I would agree with that very much. I think this is far beyond a political issue. This is a social issue. In [the last] election there [was] a lot made of PBS and NPR and support of arts and arts funding, which I believe quite honestly we do a poor job of in this country.