"Actually, I expected nothing and I was pleasantly surprised," says Lianne La Havas, when asked about her success as a singer-songwriter.
Only 23 years old, the sweet, charming British folk-pop artist earned heaps of praise even before this summer's release of her irresistible debut album, Is Your Love Big Enough? National Public Radio called the strong set "the stuff of 'Best New Artist' Grammys." Meanwhile the New Yorker called her a "stunning" live performer.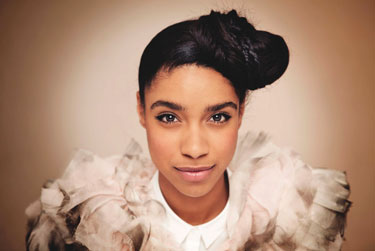 Lianne La Havas
(Photo by Alex Lake)
"Of course I'd like to take over the world," La Havas teases – but only as the most benevolent world dictator ever. "I would spread the message of complete honesty," she says. In other words, exactly what she's doing now.
Just a few years ago, La Havas, born in England to a Greek father and a Jamaican mother, was in college studying art. Though her father was a musician and taught her to play piano and guitar, it wasn't until she started performing as a backup singer that she decided to pursue a career in the spotlight. Her resulting sound was shaped in large part by the four diverse artists she cites as her earliest influences: Lauryn Hill, Ella Fitzgerald, Louis Armstrong and – definitely not least – India.Arie.
In many ways La Havas is still just bubbling under mainstream success, at least in the U.S. – though within the next week she'll make her debut on both David Letterman's and Conan O'Brien's talk shows. La Havas is just taking it all in stride. "The fact that people are finding out about the music of their own accord, that's really gratifying," La Havas says. "Also a lot of people that come to the show are musicians and artists. And that really touches my heart. To play a song live is the natural way to share music." '
Lianne La Havas performs Sunday, Nov. 11, at 7:30 p.m., at the Birchmere, 3701 Mount Vernon Ave., Alexandria. Tickets are $20. Call 703-549-7500 or visit birchmere.com.