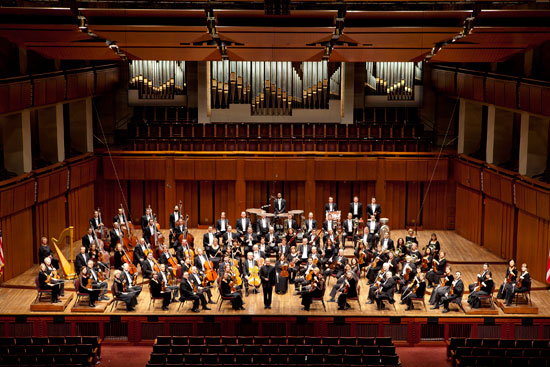 (Photo by Scott Suchman)
"An organ in a concert hall has to have balls," says organ consultant Jeff Weiler. "And the old organ was just whistling Dixie."
The Kennedy Center's original Concert Hall organ was, according to Weiler, "the dying gasp of a once-very prominent organ builder." Aeolian-Skinner built the organ as quickly and cheaply as possible – using what Weiler refers to as "shop sweepings" – before going out of business immediately after installation in 1972. "It did not work musically, and it was unreliable mechanically," says Weiler, who notes that many, including the late, great organist Virgil Fox, have complained about the instrument from day one.
A decade ago, the Kennedy Center hired Weiler and his 14-member, Chicago-based organ restoration business to offer scenarios for restoring or replacing the organ, used most often by the National Symphony Orchestra and NSO Organist William Neil. Weiler's expertise with organs essentially came from birth: His mother was an organist, and ever since he can remember he was fascinated by the mechanics and sounds of pipe organs, which can weigh as much as 20 tons and feature 5,000 pipes, as the Kennedy Center's does. "A colossal machine that just happens to be a musical instrument," is how Weiler puts it.
For the Kennedy Center, Weiler advised that "the best scenario is to begin afresh." He recommended the Quebec-based firm Casavant Frères, the oldest organ builder in North America and the largest in the world, which also has particular expertise in designing for concert halls.
In part as a tribute to its heritage, Weiler had Casavant Frères incorporate 61 pipes from the original organ, which was a gift from Catherine Filene Shouse. The new organ, meanwhile, is a gift from Kennedy Center Chair David M. Rubenstein, in honor of anniversaries marking 40 years of the Kennedy Center and 80 years of the NSO.
"At long last," says Weiler, "the Kennedy Center is home to a world-class organ."
The new Concert Hall Organ debuts in a free performance by NSO organist William Neil on Tuesday, Nov. 27, at 6 p.m. at the Kennedy Center. Tickets will be distributed on a first-come, first-served basis at 5 p.m. that day. Call 202-467-4600 or visit kennedy-center.org.