In the early '90s, nationally recognized club singers, from Crystal Waters to CeCe Peniston, were the chief draw for gay nightclubs. Soon after, DJs became the marquee talent, packing 'em in by the thousands. Now it's shifted again — to drag queens. And Ed Bailey, co-owner of the popular nightclub Town Danceboutique, has had a front-row seat to watch that shift occur.
"It didn't use to be the case," says Bailey, "because there was no way for drag queens to have any kind of national notoriety." But thanks to RuPaul's Drag Race – launched in 2009 – more and more drag queens are able to pursue the career of simply being a drag queen, cultivating a national following in the process.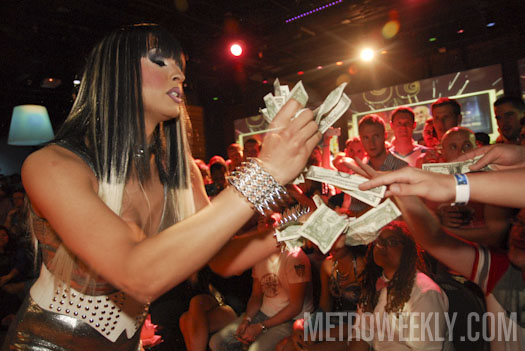 Town, with its immensely popular, twice-weekly drag show featuring homegrown drag stars led by Lena Lett, Shiqueeta Lee and Ba'Naka, has become an early and frequent stop on any Drag Race queen's tour. Most of the stars from this year's Season 4, for example, have appeared repeatedly at Town – much to Bailey's delight.
"We are now enjoying the most successful year we've had since we've been open," marvels Bailey, who decided to throw a party to celebrate on the exact day the club first opened five years ago: Saturday, Nov. 17. Chris Cox, who became a headline DJ for Bailey at Nation as one-half of Thunderpuss, will do the anniversary honors.
When John Guggenmos and Bailey first launched Town, Bailey concedes they only planned for a five-year run. "Five years is the general lifespan of a really good event – maybe not a club, but an event," he says. But considering how well the club – and especially its quickly developing neighborhood – is faring, they've decided no sense in stopping now. "We have signed a very long-term lease to be in the building for the foreseeable future," Bailey says. When asked if the "foreseeable future" spans another five years, Bailey says, "Absolutely. That's the plan."
So expect many more Drag Race-rs. And next weekend Town welcomes Latrice Royale, voted Ms. Congeniality on Drag Race Season 4. "Everyone loved Latrice," Bailey says. "She's just one of those people that you're drawn to."
Town's Five Year Anniversary Party is Saturday, Nov. 17. Latrice Royale appears Saturday, Nov. 24. Town is at 2009 8th NW. Visit towndc.com.