Allyson Robinson has never been one to take the easy route. She applied three times before being accepted to West Point. And when she came out as transgender, it wasn't in the confines of a liberal bastion like New York or San Francisco, but in Waco, Texas. While she was in divinity school.
As the new executive director of the recently combined OutServe-Servicemembers Legal Defense Network, Robinson faces an uphill battle of refocusing the movement on the inequalities still faced by LGBT servicemembers.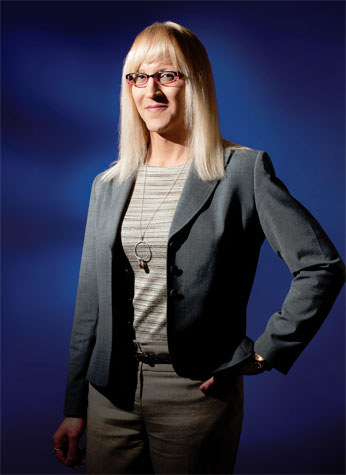 Allyson Robinson
(Photo by Todd Franson)
The repeal of "Don't Ask, Don't Tell" in September 2011 brought an end to nearly two decades of discrimination in the American armed forces that saw more than 13,000 men and women discharged because of their sexual orientation. But while activists and supporters of the LGBT community declared victory after the repeal, obstacles remain for full equality in the military, including a ban on transgender servicemembers and roadblocks for awarding same-sex couples benefits enjoyed by straight military couples.
A veteran, Baptist preacher and married for 18 years to the mother of her four children, the 42-year-old Robinson hopes to right those wrongs by preaching to the LGBT community and the public the struggles that still remain for those in uniform. Having previously worked for the Human Rights Campaign as deputy director of employee programs at HRC's Workplace Project, Robinson brings a knack for educating to her new leadership role.
"What we share in common far outweighs the things that make us different from one another," says Robinson, who was named executive director of OutServe-SLDN in October, in the process becoming the first transgender person ever to lead a major organization that advocates on behalf of gay, lesbian, bisexual and transgender people.
Although Robinson says she didn't set out to make history, she has. And with a friend of the LGBT community in the White House, momentum appears to be on her side.
METRO WEEKLY: Who is Allyson Robinson?
ALLYSON ROBINSON: I grew up in Scranton, Pa. I used to be very reluctant to admit to having grown up in Scranton, and then two things happened: The Office came out, and now everybody thinks that beautiful, hilarious people come from Scranton. And the vice president is a native of Scranton. So I feel a little bit better about owning my hometown.
I came from a military family, and people often have a hard time reconciling that with the fact that my dad was not active duty for much of the time I was growing up. My dad's a Vietnam veteran and sort of found his life calling in the Army, but had to leave it behind to take over the family business not long after he came home from the war. He found his way into the Reserves and did his career as a reservist, but there was never any question in our family about what my dad's real job was. That was what he loved and what he was passionate about. And so it was kind of the family business for us. Not in the sense that I felt as though I had to follow in his "bootsteps," but in that I really, really wanted to. So I made plans to do that.