Cheyenne Jackson is surely one of the nicest guys working in the entertainment industry today — but everyone has a breaking point. "Some of our friends recently bought a dog," Jackson says, his voice rising. "And it just – ugh! There's no reason, there's no reason to buy dogs! There are so many dogs that need homes. Beautiful dogs, every breed you can imagine."
Jackson would know. Years ago he and his now-husband rescued a rottweiler-Labrador mix from a kill shelter. Zora, who sadly died of cancer earlier this year, was so much a part of the family she was a witness to the couple of 12 years' wedding last year following New York's legalization of same-sex marriage. Jackson also regularly works with Bernadette Peters and her pet-adoption charity, Broadway Barks. Over the summer, "she sent me a picture of this scrappy little guy who'd been abandoned a couple of times," he says. He and his husband ended up adopting what they think is a schnauzer-terrier mix, whom they've named Brillo, because he looks like a steel-wool pad. "He was just in bad health – infections in his ears and his stomach, and his hair was all patchy." Now, after visits to the vet, the 2-year-old "is just prancing around with his shiny coat and his white teeth."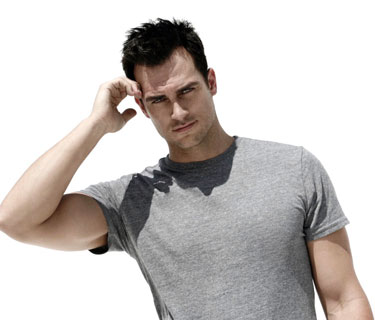 Cheyenne Jackson
(Photo by Karl Simone)
In a sense, Jackson will be doing much the same in a couple weeks, when he helps ring in the New Year at the Kennedy Center. "I'm so excited," he says, about his debut at the venue. "To sing with the National Symphony, I'm just thrilled."
The concert with the National Symphony Orchestra Pops, led by conductor Steven Reineke, is a slightly altered version of a show Jackson put together last year with Reineke for the New York Pops at Carnegie Hall. "Music of the Mad Men Era," says the 37-year-old Jackson, "incorporates a lot of different singer/songwriters and pop styles from the '50s and '60s," including "some stuff a little outside of the box," such as Amy Winehouse and Joni Mitchell. At the Kennedy Center, Nina Arianda, who has won the Tony Award for Best Actress in a play two years running (Born Yesterday, Venus in Fur), will join Jackson, who says to expect the unexpected. "I definitely have a lot of new material and other surprise special guests," he says. It might even include a new song or two of Jackson's, who is gearing up to release a solo debut pop album featuring collaborations with his friend, singer-songwriter Sia, next spring.
Launching 2013 in style at the Kennedy Center seems appropriate: Next year promises to be a banner year in entertainment for Jackson, bigger than probably any year before it. In addition to his solo set, part of a new contract with Sony/ATV Music Publishing, Jackson also has lined up a couple film roles, including one in a star-studded movie, Behind the Candelabra from director Steven Soderbergh. The HBO film, shot over the summer and expected to premiere next year at the Cannes Film Festival, focuses on the life of the late, closeted, gay entertainer Liberace, portrayed by Michael Douglas. Jackson plays Billy Leatherwood, one of the flamboyant pianist's first boyfriends, disguised as a bodyguard/pool boy/occasional duet partner.
Jackson, who actually moved to New York from his native Idaho specifically for Broadway, is now probably best known for his recent supporting roles on hit TV series, most notably Glee and 30 Rock. Jackson laughs in relating his experience trying to debut TV shows. "I've done seven pilots, and I'm zero for seven, as far as them getting picked up." But he says there's precedence still on his side. "Jennifer Aniston, I guess Friends was her ninth pilot. And George Clooney, ER was his 10th pilot. So, I got a few more."
In his spare time, in addition to advocating – even agitating his friends – for pet adoption and spaying and neutering, Jackson serves as an ambassador for amfAR, serving as one of the AIDS research organization's ambassadors alongside Liza Minnelli, Milla Jovovich and Michelle Yeoh. "I thoroughly believe that in my lifetime we will find a cure [for AIDS], and I think it's going to be because of the work of amfAR," he says. Aside from the satisfaction of working for such a worthy cause, there's also the side benefit of the company amfAR keeps. "I never thought I'd be friends with Liza Minnelli," Jackson says, "but you know, I never thought a lot of things."
Cheyenne Jackson performs Monday, Dec. 31, at 8:30 p.m., at the Kennedy Center Concert Hall. Tickets are $55 to $105. Call 202-467-4600 or visit kennedy-center.org.