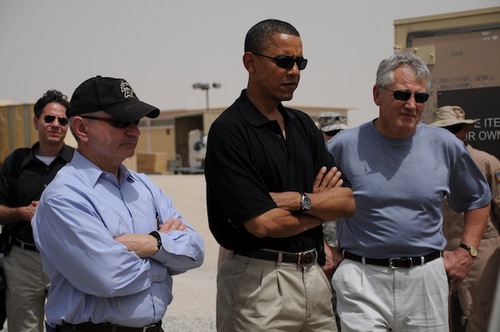 Advocates are voicing concerns amid reports that former Sen. Chuck Hagel is at the top of President Barack Obama's list to become the next Secretary of Defense.
In a statement released Thursday, OutServe-SLDN Executive Director Allyson Robinson expressed confidence in Obama's final decision, but alluded to the Nebraska Republican's lackluster record on LGBT rights as speculation continues to circulate that he will replace current Secretary of Defense Leon Panetta.
"At OutServe-SLDN, we expect that anyone being considered by the President for the Secretary of Defense post would embrace one of the signature accomplishments of this administration – the repeal of 'Don't Ask, Don't Tell' – and would be prepared to demonstrate his or her firm commitment to fairness and equality for our nation's men and women in uniform," Robinson said.
Robinson added that should Hagel, who is an Army veteran, be selected as the next defense secretary, OutServe-SLDN would work with him to achieve Obama's priorities for the armed forces.
"Finishing the work of repeal – and the important next steps toward achieving equality in the military – need to happen during the tenure of the next Secretary of Defense," Robinson said.
Since Obama's re-election, OutServe-SLDN has refocused its efforts to secure full benefits for same-sex military couples and open the military to transgender Americans, who are still banned from serving.
Although Hagel earned a reputation as a moderate during his years in the Senate, his record on LGBT rights is in line with some of the most conservative members of the Republican Party. He consistently voted against legislation that would have expanded hate-crime protections to LGBT Americans. According to the Human Rights Campaign Congressional Scorecard, he earned a 0 percent for the 107th, 108th and 109th sessions of Congress. During the 110th session of Congress, Hagel earned a 20 percent due to his vote to reauthorize the President's Emergency Plan for AIDS Relief (PEPFAR), which, among other things, lifted the ban on HIV-positive visitors and immigrants.
It remains unclear if Hagel's positions have evolved since he left the Senate. Hagel voiced opposition to repealing "Don't Ask, Don't Tell" in 1999, stating, "The U.S. armed forces aren't some social experiment."
According to HRC spokesman Michael Cole-Schwartz, "If Senator Hagel is nominated and confirmed as Secretary of Defense we look forward to working with him on issues important to our men and women in uniform – particularly those who now serve openly yet do not receive the same treatment as their straight counterparts."
Hagel was one of the most vocal Republican defectors to criticize President George W. Bush for the war in Iraq. He left the Senate at the end of his term in 2009 after announcing in 2007 he would not seek re-election. Much as is the case today, Hagel's friendly relationship with then-Sen. Obama fueled speculation that Obama would appoint Hagel to his cabinet.
"Chuck Hagel is a great friend of mine and I respect him very much," Obama told The Sunday Times of London during the 2008 presidential campaign.
Bloomberg reports that Hagel has passed the vetting process by the White House Counsel's office and is awaiting final word from the president on his nomination. Hagel reportedly visited the White House on Dec. 4 to discuss the position with Obama.
The White House has refused to comment on any potential cabinet appointments, including Hagel's. At a press briefing earlier this afternoon, White House press secretary Jay Carney declined to speculate about Hagel's appointment.
"The president thinks very highly of Sen. Hagel," said Carney. "I think a lot of people in Washington and around the country, and especially in Sen. Hagel's home state, think very highly of him. But I have no news to make for you on that process."
[Photo: Sens. Jack Reed (left), Barack Obama and Chuck Hagel visit Kuwait in July 2008 (Courtesy of Wikimedia Commons).]