In a Dec. 5 letter sent to Democratic and Republican leaders on Capitol Hill, 24 of the country's most financially successful gays and lesbians urged Congress to work with President Barack Obama to reach a deal to avert the "fiscal cliff."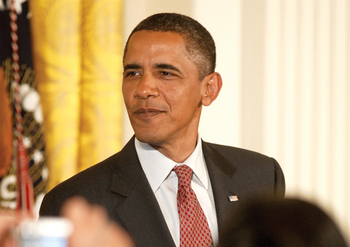 Citing a report published by the Center for American Progress last month that warned going over the fiscal cliff would result in cuts that would directly affect LGBT Americans, the letter argues for the adoption of Obama's plan, which preserves Bush-era tax cuts for middle-class Americans, but allows those tax cuts to expire for those making more than $250,000 a year.
First obtained by Jonathan Capehart of The Washington Post, the letter argues that across-the-board cuts inflicted by sequestration would "compromise LGBT health by reducing programmatic funding used to address the health care needs of gay and transgender Americans, impair the federal government's ability to investigate claims of workplace discrimination, and remove critical resources from government agencies working to prevent bullying and school violence."
Moreover, higher tax rates would hurt middle-class LGBT families, who have been shown to have lower levels of income compared to straight Americans.
A stalemate continues between the White House and Republicans on Capitol Hill over a plan to address the fiscal cliff. Known as sequestration, going off the fiscal cliff would cause cuts to federal spending and tax increases to automatically take effect on Jan. 2, 2013.
Republican leaders, including House Speaker John Boehner and Senate Minority Leader Mitch McConnell, have balked at Obama's proposal, despite threats from Obama to veto any bill that extends tax breaks for the country's top earners. During an interview on CNBC yesterday, Treasury Secretary Timothy Geithner said the Obama administration is "absolutely" willing to go off the fiscal cliff if Republicans do not compromise on raising tax rates for top earners.
In a statement provided to Metro Weekly, White House spokesman Shin Inouye said the Obama administration welcomes those urging Congress to act.
"President Obama is committed to growing our economy from the middle out by ensuring a strong, secure, and thriving middle-class. If Congress doesn't act by the end of the year, a typical middle-class family will see their taxes go up by about $2,000," Inouye said. "We welcome all Americans who are speaking out about the need for Congress to act."
The letter's authors, all of whom make more than $1 million annually, conclude by noting their financial support to re-elect Obama and their shared vision of a "country in which everyone has a fair shot and does his or her fair share."
READ the full letter here:
Dear Speaker Boehner, Senator Reid, Senator McConnell, and Representative Pelosi:

We are successful LGBT Americans who now or in the past have earned an annual income of $1,000,000 or more.

America has been good to us: it has provided the foundation and opportunity to succeed. We want that same opportunity and possibility for all Americans, but we are concerned about the future of our community and our country.

At the end of this year, a series of deadlines will require our leaders to make important decisions that will have a huge impact on the economy — and on the LGBT community. If Congress fails to act, across-the-board cuts to vital programs will be triggered even as taxes go up on the middle class.

For LGBT Americans, this "fiscal cliff" isn't just an abstract concept. A report released by the Center for American Progress, the National Gay & Lesbian Task Force, and a coalition of 23 national LGBT organizations outlines the real and lasting impact it would have.

Across-the-board cuts would compromise LGBT health by reducing programmatic funding used to address the health care needs of gay and transgender Americans, impair the federal government's ability to investigate claims of workplace discrimination, and remove critical resources from government agencies working to prevent bullying and school violence.

At the same time, higher tax rates would further endanger middle class and working class members of our community. LGBT Americans have lower levels of income than other Americans, according to a recent Gallup report, and face additional economic obstacles caused by the so-called Defense of Marriage Act and the lack of federal workplace protections.

In the recent election, many of us contributed significantly to re-elect the President, and we support the President's vision of a country in which everyone has a fair shot and does his or her fair share.

We urge Congress to work with President Obama to avoid the fiscal cliff with a balanced approach, and to preserve the middle class tax cuts while allowing tax cuts for the best off to expire. It's the right thing to do.

Signed,

The Honorable Bruce W. Bastian, Terry Bean, Paul Boskind, David Bohnett, Roberta Conroy, Bill Derrough, Karen K. Dixon & Nan Schaffer, Joe Falk, Dale Frederiksen & Bob Page, Nanette Gartrell, MD & Dee (Diane) Mosbacher MD, PhD, Tim Gill, Mel Heifetz, Glenn Johnson & Michael Melancon, Kathy Levinson, Terrence Meck, Charles Myers, Suze Orman & Kathy Travis, Laura Ricketts, Sarah Schmidt, Andrew Tobias
[Editor's Note: This post has been updated to incoporate a statement from a White House spokesman.]