In 1999, Peter Merholz jokingly used the term "we blog" and in a cyber moment the creator of peterme.com renamed the weblog, as the platform was originally known. In October 2012 the blogosphere consisted of approximately 133.6 million. Often blurring the line between personal commentary and mass media and boasting their own search engines, 383 million people view over 3.5 billion pages every month written on the WordPress.com platform alone. The U.K.-based Lesbian and Gay Foundation recently compiled a list of Best 100 LGBT blogs, including Andrew Sullivan's The Dish.
Not surprisingly, blogging is a large global business and to the subject of how to successfully blog to promote a business's success, we asked a group of Chamber members to share perspectives and insights.
Alice Wendt, Vice President, Wendt Partners
"Blogging can be a very powerful platform for building both the reputation and reach of your business. The key to successful blogging – whether for business or any endeavor – is to find your 'voice,' which means taking the time to write about a variety of topics and developing a sense of what you are an expert in and passionate about. It will be the combination of your expertise and passion that generates lasting readership."
Ron Romanski, Preactive Marketing
"Search engines crawl and re-index your website based on how often you post new content. Blogging offers the opportunity to post new thought leadership (new content) so the search engines crawl your website more often. Plus blogging drives people to your website where they can see what is you do and what problems you can solve for them."
Nancy Wigal, Search Engine Academy
search-engine-academy-washington-dc.com
"There are multiple ways a blog can help a business. By blogging regularly you establish a relationship with clients and prospects. You are freely, happily sharing valuable information, your outlook on your business and updates in your industry.
"I tell my clients and students not to set up a blog unless they can clearly state its purpose. What the world doesn't need is yet another blog on any subject that doesn't have a fresh or different angle. When you think about your favorite blogs you subscribe to, you like them because they demonstrate a consistent purpose and they resonate with you.
"The other part to blogging that's fairly new is setting up your Google Authorship profile. By doing this, Google sees that you, the blogger, are regularly publishing new, interesting content. And by featuring your Google Authorship snippet in search results, you can reach new target audiences you may have missed. Plus, Google Authorship is your opportunity to establish yourself as a thought leader in your given industry."
Devon Hopkins, Social Driver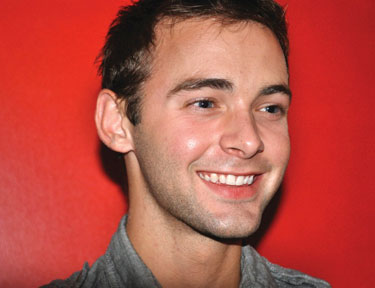 Devon Hopkins
(Photo by Maya de la Rosa-Cohen)
"Blogging greatly benefits Social Driver's business. With our blog, we've been able to generate leads, promote knowledge sharing between our team and our clients, and increase exposure of the Social Driver brand. Since launching our blog six months ago, we've increased the traffic coming to our website 50 times."
Blogging creates visibility and promotes discussion. It's an opportunity to present a point of view and establish a company's unique selling point, as in what makes it different from the rest. Like every good business practice, it's a commitment, requires consistency and should be part of an overall business plan if it is to yield measurable results.
Ernesto M. Santalla, CAGLCC board president, owns Studio Santalla Inc., a full-service architecture and interior-design firm in D.C. Santalla shares his views on design at ernestosantalladesignthoughts.com.
Winner of the 2012 Chamber of the Year Award from the NGLCC, the Chamber Means Business. For more information visit caglcc.org.