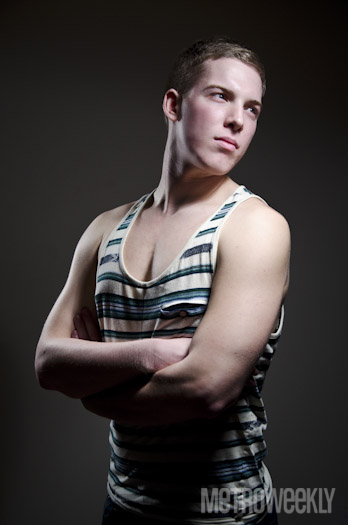 Coverboy: Matt
(Photo by Julian Vankim)
What superhero would you be?
Aquaman, because I love the water and would love to be able to breathe underwater.
Who's your greatest influence?
My parents. I love everything they've taught me, and as I've gotten older I respect their opinions and look up to them.
What's your greatest fear?
Spiders and balloons. Especially balloons. I don't like the way they look, I don't like the way they pop, the noise they make – anything. People think it's funny to pop them in my ear, because I'll jump like a little kid.
Pick three people, living or dead, who you think would make the most fascinating dinner guests imaginable.
Ke$ha, because she's crazy, Laura Bell Bundy and Ryan Gosling.
What would you serve?
Mexican food. Anything hot and spicy.
How would you describe your dream guy?
He has to be willing to take risks, be passionate about something – anything, doesn't matter what – be adventurous, and be willing to travel.
Define good in bed.
Someone who's not mechanical. Kinda rough. Someone who keeps it spontaneous.
Who should star in a movie about your life?
Josh Hutcherson as he appeared in The Hunger Games, with blond hair.
Who was your first celebrity crush?
Zac Efron.