The White House is sticking by President Obama's nominee for defense secretary despite continued qualms from advocates.
White House press secretary Jay Carney defended former Sen. Chuck Hagel during Wednesday's briefing, telling reporters Hagel has been clear about his views in his recent apology and endorsement of open military service.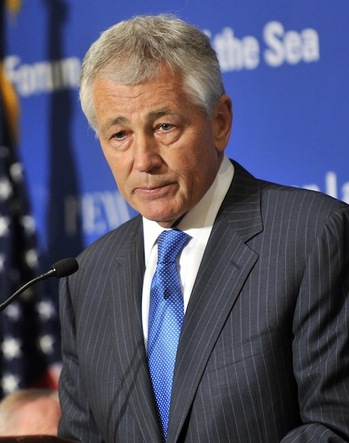 Asked by ABC's Jonathan Karl during Wednesday's White House briefing why Hagel only apologized a month ago for calling former Ambassador James Hormel "aggressively gay" in 1998, Carney deflected, stating that as secretary of defense Hagel will be responsible for carrying out the president's policies.
"I think Sen. Hagel was very clear about the fact that he thought those comments were not appropriate, he regretted them and that they don't represent the totality of his views," said Carney, adding that senators will have the opportunity to ask Hagel questions about his views during his confirmation process.
"The secretary of defense — Sen. Hagel when he is confirmed as we hope he will be — carries out the president's policies. And I think the president's policies on LGBT issues are both commendable, supported by the LGBT community and will continue to be the policies of this administration as long as President Obama is in office," said Carney. "Again, I think you've seen what Sen. Hagel said about this and the president is very confident that Sen. Hagel will be confirmed and that he will be an excellent secretary of defense and will implement all of the president's policies with regards to the Defense Department."
Asked again about Hagel's record later in the briefing, Carney reiterated: "I think I've addressed the question about Sen. Hagel and I would simply point you to President Obama's record on LGBT issues as representative of his beliefs and convictions, his policies and where he believes this country is moving and where he hopes to lead it."
Carney's defense of Hagel comes as more is revealed about the Nebraska Republican's record in the Senate. The Omaha World-Herald republished on its website the 1998 story that quoted Hagel calling Hormel "aggressively gay." With the 1998 quote resurfacing in December one day before Hagel apologized for his remarks, Hagel went further in the original article.
Ambassadorial posts are sensitive, Hagel explained.

"They are representing America," he said. "They are representing our lifestyle, our values, our standards. And I think it is an inhibiting factor to be gay – openly aggressively gay like Mr. Hormel – to do an effective job."

Hagel noted a documentary, filmed with money Hormel donated, that showed teachers how they could teach children about homosexuality. He said he had seen another video clip that showed Hormel at what Hagel called an anti-Catholic event in San Francisco, featuring the "Sisters of Perpetual Indulgence," a group of male drag queens.

"It is very clear on this tape that he's laughing and enjoying the antics of an anti-Catholic gay group in this gay parade," Hagel said. "I think it's wise for the president not to go forward with this nomination."
The article continued:
Hagel, meanwhile, said a homosexual should not necessarily be disqualified from all ambassadorships.

His approach to nominees, he said, has been to examine the person's qualifications first. The United States has had gay ambassadors in the past and gays in the military, who have done well by quietly adopting the Pentagon's current "don't ask, don't tell" attitude.

Hormel, however, has gone beyond that, Hagel said.

He "very aggressively told the world of his gayness and the funding and all the things he's been involved in. I think you do go beyond common sense there, and reason and a certain amount of decorum," Hagel said.

"If you send an ambassador abroad with a cloud of controversy hanging over him, then I think it's unfair to our country, it's unfair to the host country and it's unfair to the ambassador because the effectiveness of that individual is going to be seriously curtailed. That's just a fact of life. And I believe Hormel's situation is one of those."
The liberal LGBT-rights group GetEqual has also criticized the totality of Hagel's record on social issues.
In a statement released yesterday, the group notes that Hagel earned a 4 percent rating from the Human Rights Campaign, 14 percent from the Leadership Conference on Civil Rights, 12 percent from the League of United Latin American Citizens (LULAC), 5 percent from the League of Conservation Voters and 7 percent from the American Federation of State, County, and Municipal Employees (AFSCME).
On the other hand, Hagel finished his Senate career with a 100 percent rating from the anti-gay Family Research Council.
"With our country facing so many important battles ahead on such crucial issues as immigration reform, climate justice, and gun control, it's baffling why President Obama would spend political capital on a nominee who so clearly is at odds with his Administration's values," said Heather Cronk, managing director for GetEqual, in a statement.
Hagel also ran for the Senate opposed to abortion in cases of rape and incest, according to BuzzFeed's Andrew Kaczynski. Although the defense bill recently signed by Obama expanded Defense Department coverage for abortion in cases of sexual assault, Hagel voted against allowing servicewomen access to abortion services at military hospitals.
Hagel is expected to face a controversial confirmation process, but will likely be confirmed. Out Sen. Tammy Baldwin (D-Wis.) has said she plans to ask Hagel about his comments and apology. "I do want to speak with him particularly about his comments 14 years ago to see if his apology is sincere and sufficient," Baldwin said on MSNBC last week.
[Photo: Chuck Hagel (Courtesy of Wikimedia Commons).]