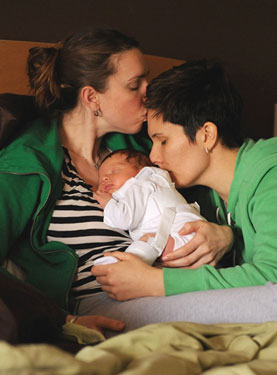 The Khalafs
"That's where I met Amy and Alex," she says of that mass wedding March 20, 2010. "I talked with them and said I'd like to follow them through the first year of their marriage, do a story on them. That was when I actually started doing the research and found out there are 1,138 rights associated with marriage. That's when I realized it was a much bigger story than I had originally anticipated."
The story was so big, in fact, it became a project: The Legal Stranger Project. Initially, Lucidon imagined the project as a slideshow with audio. It's grown to include short films and plans for a feature documentary, along with the still photographs and audio recordings. The project has also been honored by the White House News Photographers Association with its 2012 first-place award for Best Multimedia Innovation. And it has expanded its scope to include more couples.
"There was no way I could ever tell a story about all 1,138 rights. So, how do I find a way to explore a lot of them? That was through several couples who have distinct challenges in those certain categories."
Lucidon is looking at immigration rights and tax disparity. As she's followed Alex and Amy, parenting has become part of the story.