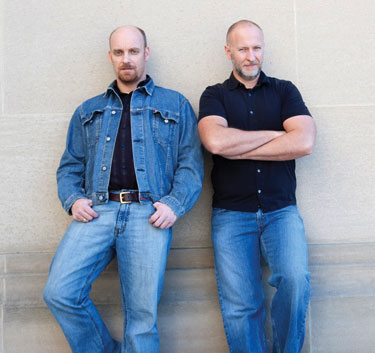 Rich Morel and Bob Mould
(Photo by Todd Franson)
MW: How did you pick the Velvet Lounge to launch the party?
MOULD: Rich knew the guy who booked Velvet, because he had played there with Morel the band. So that's the way we got to Velvet.
MOREL: It seemed like a good-sized room to do that kind of event. I don't know why we chose Sunday night, but we started on Sunday nights. And it worked. It seemed to fit, and it was a lot of fun.
MOULD: We did six events at Velvet Lounge. We started the last January Sunday night in '03, and then we did January through June. And then, remember we had that thing in July of '03, we had built everything up, and were starting to get press, and then the Velvet Lounge got closed down the night before on a health violation? We made emergency fliers, and had friends standing in front of the Velvet Lounge, telling people who were getting out of taxis, "Go to the 9:30 Club." We were downstairs in the Back Bar. We had called every club in town. We probably called 10 clubs, and I think it was Chad, one of the managers at the 9:30 Club at the time, who said, "We can put you guys in the Back Bar, down in the basement." It's not very big. We had one of those portable party PAs.
MOREL: Actually, we hadn't reached out to Chad. He'd just heard because we had called every other club in town, and he called us. [Laughs.]
MW: And then you decided to stay put in the 9:30 Club Back Bar?
MOULD: After that emergency Blowoff, we came back in September after Labor Day. And then we started doing it weekly. And we did it every week for about a year, if I'm not mistaken.
MOREL: That was like a real learning experience. If you're doing something weekly, a DJ event, you really have to feed the music machine. So I was constantly listening to music. It affected things I was doing outside of Blowoff just because of the amount of music I was listening to in order to find music to play. And showing up every week and doing that was kind of crazy. We kind of really cut our teeth on it.
MOULD: Yeah, and that started to build a really good following. There was a core of maybe a hundred people that came – some came every week, some came once a month. And then they started bringing people.
MW: When did shirts start coming off?
MOULD: I think it was sometime that fall. It was almost like, "Let's see how much we can get away with in here." It just sort of happened naturally. I remember people started getting a little looser and a little more into the party thing. It was really fun to watch that evolvement, to watch how things went. Again, when we started getting 100 people, and then 150 people, it was like, "Wow, this is getting really big." And we never really had an eye on upstairs at this point.
MOREL: And also I think the capacity there was 40. So it was really packed, and it was like a really crazy house party. Because it's not a very big space, and we were doing a lot more people in there than I think was the capacity. Not to get anybody in trouble at this point.
MOULD: [Laughs.] Well, we were doing it in shifts.
MOREL: [Laughs.] Yeah, it was in shifts.