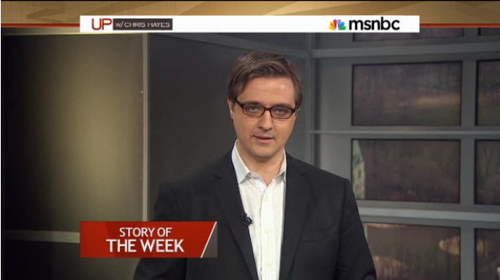 GOProud picked up an unlikely ally over the weekend when liberal commentator Chris Hayes issued an ultimatum to the organizers of the Conservative Political Action Conference.
Invited to participate on a panel at the annual conference scheduled for next month, which attracts leading conservative thinkers and politicians, Hayes said he would only accept the invitation after the ban on GOProud's attendance is lifted.
"GOProud is not an organization I share much with ideologically, or even, truth be told, like all that much. They come out of the Breitbart wing of the conservative movement that seems to relish nothing more than pissing off liberals," Hayes said Saturday during his MSNBC show. "GOProud is not really the point. The point is the principle, which is: it's not OK to ban organizations for reasons of pure bigotry."
Although GOProud participated in CPAC in 2010 and 2011, the group for gay conservatives was kicked out of the conference last year after former GOProud board president Chris Barron labeled conservative attorney Cleta Mitchell as a "nasty bigot" and blamed her for the decision by the Heritage Foundation to remove itself from the conference over GOProud's participation. Although Barron apologized, GOProud has not be invited back since.
According to GOProud Executive Director Jimmy LaSalvia, the group has had no communication with the American Conservative Union, which sponsors CPAC, since last year. While Hayes and GOProud may have little in common politically, LaSalvia said the group welcomes Hayes's support.
"We certainly disagree with Chris Hayes politically, but we appreciate his commentary on Saturday," LaSalvia said in an email to Metro Weekly. "He was correct to state that we were kicked out of CPAC because of anti-gay bigotry."
Writing in the conservative National Review Online, News Editor Daniel Foster joined with Hayes in calling for inclusion, writing that the conservative movement cannot afford to ignore shifting public opinion on gay issues and that gay voters should not automatically be considered Democrats.
"[T]he election is over, and one of conservatism's great intellectual strengths is that 'conservatism' is a contested concept," Foster wrote. "If confabs like CPAC aren't going to reflect the robust and vital internal debate about the present and future of conservatism, what are they good for?"
It also does not appear Log Cabin Republicans will participate in this year's CPAC, after attending in 2011 but not doing so last year. According to LCR Executive Director Gregory Angelo, the group of gay Republicans has not been approached by organizers about participating in this year's conference.
With changing attitudes toward LGBT issues, particularly among young voters, leaders from both organizations have argued that the Republican Party must evolve on LGBT issues if it wants to remain relevant in the political process.
Watch Hayes's comments here: