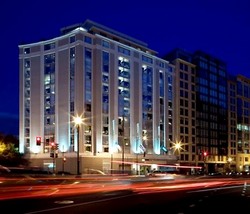 A one-night-stand has its place, but Kimpton is seeking guests with staying power.
From now through March 3, the über gay-friendly hotel chain is offering a Take It Off For Love promotion at all of its properties in the D.C. metropolitan area.
With this offer, the more nights guests stay, the bigger the discount Kimpton "takes off" of the price. One-night stays get 10 percent off; two-night stays 20 percent off; and three-night stays 30 percent off. Plus, anyone who books this rate will also receive complimentary chocolates and sparkling wine on their first night's stay.
The discount is available for Thursday through Sunday night stays, including Valentine's Day weekend. Reservations can be made online using rate code 4LOVE or by calling 1-800-KIMPTON and requesting the Take It Off For Love rate.