As Valentine's Day approaches, many gay couples are looking for something that will put a little extra "wow" into the season of romance and love. Just like their heterosexual counterparts, members of the Washington-area LGBT community are in search of the ultimate romantic experience, from intimate candlelit dinners to sexy underwear.
Just how should a member of the LGBT community say "I love you" to that someone special? Flowers are frequently a good place to start. Stephen Robinson, proprietor of Bloom Fresh Flowers of Old Town Alexandria (which bills itself as a "gaylicious" florist) suggests a personalized arrangement of fresh flowers straight from the giver's heart and imagination. While he still gets orders for such generic staples as a dozen red roses, many of his LGBT customers order arrangements that display a sparkling individuality.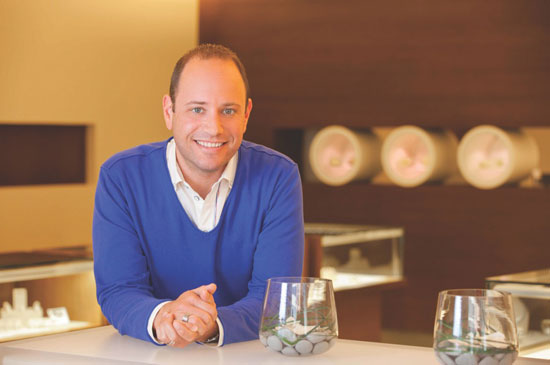 Adam Gorman of I. Gorman
(Photo by Gary Landsman Photography)
"LGBT customers like to go with more nontraditional arrangements," says Robinson, who uses fresh flowers delivered to his shop daily. "One customer spent several-hundred dollars on a special arrangement with branches, orchids, exotic flowers and other plantings that took two drivers to deliver."
Along with flowers, a delicious box of designer chocolates is also a good way to show you care. In this case, tradition continues to hold sway, according to Robert Cabeca of Cocova, a world-class chocolate shop located on 18th Street NW in Washington.
"A heart-shaped box filled with chocolate truffles is still the best way to say 'I love you,"' promises Cabeca, who has worked with chocolate for more than 25 years. "Our customers tend to stick with the tried-and-true and order a luxuriantly wrapped box filled with fine artisan-crafted chocolates to present to the special person in their life."