If you notice different music, or a different style of music, at Town's Bear Happy Hour this Friday, that's all part of the plan. In fact, BHH will feature a different DJ every Friday from now until Capital Pride weekend.
Charger Stone of DC Bear Crue has organized a crowdsourced DJ competition in which 10 contestants he's selected will spin a full night's set, with each announced only a week in advance of his gig. Partygoers will vote by text each night, and the contestant garnering the most votes will be crowned the winner June 7.
But actually, the music should remain pretty much the same.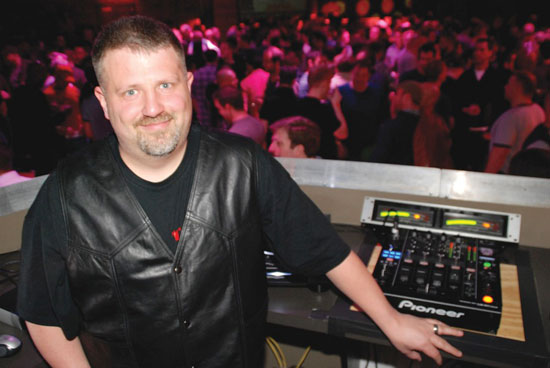 Christian Gerard
(Photo by Ward Morrison)
"It's such a diverse crowd — there are a lot of bears and a lot of non-bears, and people of all ages," says DJ Christian Gerard, who ended his reign as BHH's resident DJ last week. "I would play a wide variety of music, going back to the '60s and classic rock, alternative pop, R&B. Sort of anything goes." And that's his advice to the 10 aspirants seeking to take his place. "Keeping it very diverse and fun is the way to go. You're not going to please everyone."
Gerard won Stone's first crowdsourced DJ competition over two years ago. Gerard expects to fill in from time to time at BHH going forward. In addition to a new resident DJ, Stone will also tap the runner-up to be an alternate DJ, rotating with the resident. "This will make sure that they don't get burned out after two years," Stone says.
Gerard, who lives in Fairfax County and works as a paralegal, says he enjoyed his run at BHH. But he doesn't anticipate DJ'ing again on a regular basis.
"It was a really cool experience," he says, "but I'm looking forward to having my Friday nights back." — Doug Rule
The crowdsourced DJ competition launches with VJ Tre this Friday, March 22, starting at 6 p.m., at Town Danceboutique, 2009 8th St. NW. No cover. Call 202-234-TOWN or visit towndc.com or dcbearcrue.com.