"I went to great lengths to try and recruit a drum troupe," James Decker says. Turns out, the co-chair of the Cherry Fund didn't have to search far at all to find an organization to perform at this year's Cherry dance music party. Popular local marching band D.C.'s Different Drummers will do the honors, performing about 12:30 a.m. in between DJ sets at Town Danceboutique on Saturday, April 6.
The DCDD performance is just one aspect to this year's "Tribal: Bring the Drums Back" theme. "Tribal has a lot of connotations," Decker explains. "There's often been a sense of the circuit as a kind of tribe in itself." And then there's the type of music that fuels the gay circuit, the percussive-happy sound known as tribal house. Tribal house will be especially well represented at this year's Cherry, headlined by Montreal-based Alain Jackinsky on Saturday night. "[Jackinsky] has been working very closely with DJ Paulo, and he also has a great reputation up in Montreal," which is effectively tribal house's ground zero. Cherry will bring back another Montrealer, Stephan Grondin, who will close the festivities Sunday, April 7, at Ultra Bar.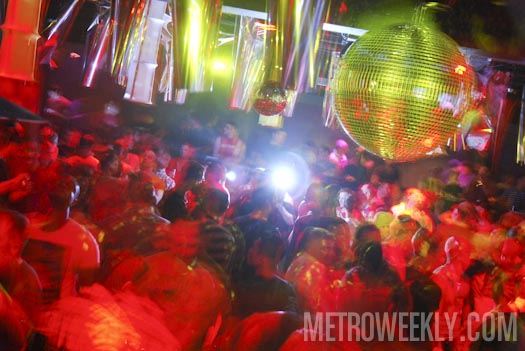 Cherry launches Friday, April 5, with the Catalyst event at Mova. "Weather permitting we'll be doing stuff up on the roof deck," Decker says. The event will specifically highlight local talent, featuring an opening set by the legendary DJ Kostas, followed by up-and-coming tribal DJ Twin, aka Kurt Graves. Graves is one of three new Cherry Fund board members, along with Cherry DJ David Merrill and Austin Venture. (They join Decker, his co-chair Allen Sexton and Dean Hodgson.)
New venue Tropicalia plays host to this year's early Sunday morning event featuring New York DJ Eddie Elias, whom Decker calls "the master of the afterhours." Tropicalia, "just a stone's throw from Town" on U Street, has one of the city's best sound systems. All in all, it should be a vast improvement over last year's Afterhours at Club Ibiza. In addition to opening late and forcing lines to get in, the club's security was overbearing, even "Draconian."
Though Decker calls Ibiza "a useful experiment," it was also a costly one. Decker estimates that Cherry last year lost about half of what would have been Afterhours patrons, who gave up on entering Ibiza. "A lot went wrong last year that was out of our control," says Decker. "And that hurt our bottom line." In fact, the Cherry Fund didn't raise enough money last year to give back to charity after covering expenses. The goal is not to repeat that.
"This year we've cut our overhead practically in half," says Decker, who adds that Tropicalia, unlike Ibiza, has effectively donated its space for the occasion. "It's not costing us anything," Decker says, adding: "The owners are great and really welcoming of our community."
Cherry VIP Host Passes, allowing no-line entrance at all main events, are $100 each. More information, including purchase of individual tickets, is available at cherryfund.org.